Degree in computer engineering - online
Home ›
Degree in computer engineering - online
Program Description
General information
Faculty : Escuela Politécnica Superior
Modality : online
Language : English
Duration : 4 courses
ECTS : 240
Student profile
A future graduate in Computer Engineering must possess basic scientific-technological knowledge that gives him the level of abstraction necessary for the development of projects dynamically and imaginatively. Likewise, it must be patient, constant and with concern for the evolution of new technologies in areas such as communications or robotics. As a future project manager it is good that you have a predisposition towards group work and are organized and methodical.
Why UCAM?
UCAM, University where you study online computing, offers you a Methodology adapted to your lifestyle, You will be the one who sets the pace of study. We will support you with a Personal tutor To which you can consult your doubts and will guide you in what you need. In addition, among the universities of distance computing, UCAM stands out for offering the Virtual API. By studying the degree in distance computing in this digital platform, you will be able to access a large number of computer applications without having to install anything, so that you perform online "compulsory practices" from any terminal connected to the network.
Career prospects
Application Developer.
Developer or Web Designer.
Database or network and system administrator.
Analyst of computer systems or functional.
Architect of software.
Director of projects of computer facilities.
Mobile application developer.
Trainer in information technologies.
Support Technician.
Expert in usability.
Computer consultant.
SEO specialist.
Computer auditor.
CURRICULUM
First course
(BSC) Linear Algebra (6)
(BSC) Calculation (6)
(BSC) Computer Basics (4.5)
(BSC) Fundamentals of Programming I (4.5)
(BSC) Computer Laboratory (6)
(OP) Theology / Humanities (3)
(OP) Social Doctrine / ethics (3)
(BSC) Computer Structures (6)
(BSC) Discrete Mathematics (4.5)
(BSC) Physics (6)
(BSC) Fundamentals of Programming II (4.5)
(BSC) Foundations of Business Administration and Organization (6)
Second course
(OBL) Algorithm (4.5)
(OBL) Databases (6)
(BSC) Statistics (6)
(OBL) Object Oriented Programming (4.5)
(OBL) Machine Person Interface (4.5)
(OBL) Legal and Ethical Aspects of Informatics (4.5)
(OBL) Operating Systems (6)
(OBL) Advanced Visual Programming (6)
(OBL) Computer Networks (6)
(OBL) Information Management Systems (6)
(OBL) Software Engineering (6)
Third course
(OBL) Parallel Programming (4.5)
(OBL) Development of Distributed Applications I (4.5)
(OBL) Requirements Engineering (4.5)
(OBL) Advanced Communication Technologies (6)
(OBL) IT Solutions for the Enterprise (6)
(OBL) Computer Architecture (4.5)
(OBL) Distributed Application Development II (6)
(OBL) Computer Project Management (4.5)
(OBL) Software Modeling (6)
(OBL) Intelligent Systems (4.5)
(OBL) Web Programming (4.5)
(OBL) Information Security (4.5)
Fourth grade
(OBL) Database Administration (4.5)
(OBL) Audit and Expert (4.5)
(OBL) Software Quality (4.5)
(OBL) Applications for Mobile Devices (4.5)
(OBL) Systems Management (6)
(OBL) Integral Software Engineering Project (6)
(OBL) Comprehensive Information Technology Project (6)
(OBL) Knowledge Engineering (6)
(TFG) End of Grade Work (18)
Mentions
Mention in Software Engineering
Mention in Information Technology
Placements
To the Study distance computing In the UCAM in addition to theoretical knowledge, you will have internships in professional companies where you will train completely. The Degree in Computer Engineering Distance will lead you to develop effectively and effectively in your professional performance, in the development and application of information and communication technologies (ICT).
Entry Requirements
Bachiller LOGSE with selectivity, training cycles of higher grade or FP 2nd degree, access test for over 25 years, access for over 40 years with professional experience, university degree and own access tests.
Testimony
Miguel Ángel Martínez, Student Degree in Computer Engineering. "The teachers were very specialized people in the subjects That they were going to give us. I was also interested in the issue of Certificates That you get from certain Companies based on the subjects you are passing. "
Last updated Mar 2020
About the School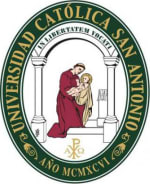 La Universidad Católica San Antonio - UCAM, como universidad católica, se caracteriza por ofrecer a sus alumnos una formación integral, basada en los conocimientos teóricos y técnicos específicos de c ... Read More
La Universidad Católica San Antonio - UCAM, como universidad católica, se caracteriza por ofrecer a sus alumnos una formación integral, basada en los conocimientos teóricos y técnicos específicos de cada titulación más la formación humana anclada en los principios del humanismo cristiano, a esta labor se dedican un claustro docente de reconocido prestigio y un equipo de tutores personales,
Read less