Course: Virtual Specialization in Business Administration
Home ›
Courses ›
Course: Virtual Specialization in Business Administration
Program Description
Virtual Specialization in Business Administration
"The Virtual Specialization in Business Administration at Universidad EAN is one of the academic programs granted the high accreditation by the ACBSP that this first-level university has in the country. This makes it a unique offering in the country with regard to postgraduate studies under this distance learning modality with the most important accreditation level for business schools worldwide.
The program aims at strengthening the skills of professionals from different disciplines who are interested in having important conceptual and practical strengths to address the complexity of the administration and management of different types of private, public and non-profit organizations.
The differentiating factor at Universidad EAN is engaged in a forceful way in the specialization program since graduates will have the skills enough to develop strategic thinking applied to global contexts and reaffirm their abilities and skills to undertake business development and initiative processes with a high sense of ethics and social responsibility.
The Specialist in Business Administration from Universidad EAN may work in first-level management positions in private, public and non-profit organizations requiring priority decision-making processes related to contemporary management, corporate finance, strategic marketing, and new management models that are being imposed on a global basis.
With this Specialization, Universidad EAN has consolidated an academic training level widely applicable on a practical basis within organizations, which can also be applied in the high-level consulting work to enhance organizational development as a source to create value and sustainability in the long term."
COMPETENCIES
Apply the knowledge, strategies, and skills required to administer and manage public, private or nonprofit organizations at different levels where the staff have the principal responsibility for decision-making.
Be a manager-leader of a company, department or area of influence, making better managerial decisions
Apply advanced techniques in business administration and management and in training and creating productive, high-performance teams.
Implement new management trends and increased productivity, based on the development of human talent and administrative knowledge of business processes.
Facilitate the process of honing human talent based on strategies of thought engineering and advanced neuro-psychological techniques.
Apply modern management trends and the resulting strategies to business processes to attain better management of the organization.
ADDITIONAL BENEFITS
The possibility of validating credits to complete other postgraduate programs offered by Universidad EAN.
Access face to face or virtual tutorials.
The possibility of completing a high quality and flexible postgraduate program.
International validation of title as Specialist by the ACBSP, organization recognized by the CHEA.
TECHNOLOGICAL REQUIREMENTS
It is recommended that each student have regular access to a computer with internet connection. The minimum requirements for access to the University's virtual platform are a computer with Pentium processor, minimum 1 GB of RAM, broadband internet connection and an operating system using Windows XP or a later version.
Universidad EAN uses campus and virtual classroom platforms which allow the student to not only access various services which are offered by the University but also allow interaction between students and tutors.
Last updated Nov 2017
About the School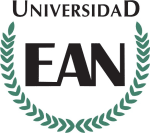 EAN University is a Colombian high education institution located in Bogotá's Metropolitan area. At EAN, students experience diverse activities for their professional development.
EAN University is a Colombian high education institution located in Bogotá's Metropolitan area. At EAN, students experience diverse activities for their professional development.
Read less