Course: SQL query language
Program Description
This course is instructor-led-online. It is not like video lecture and automatic tasks results checks. You will communicate with the trainer and he will answer your questions and will correct your mistakes.
Please be sure that you have at least B2 level of English to participate this course
SQL (stands for Structured Query Language), is a computer language, which is used to communicate with and manipulate databases. To get the most from the huge amounts of data they collect, many businesses must become versed in SQL. SQL is used by businesses as a way to access and manipulate the information and data that is stored in their databases, as well as for creating and altering new data that stored database tables. A database is a tool for collecting and organizing information. Databases can store information about products, orders, payments or anything else. Many databases often start as a plain text file or spreadsheet, but as they grow larger one will find it helpful to transfer them to a database created by a database management system. This course will familiarize you with SQL and will help you use databases proficiently and with high output.
Course outline
Introduction. Basic concepts and definitions
What is SQL and why do you need it
SQL standards
Strengths and weaknesses
What is a database? Database management system MySQL.
Relational theory
Basic Concepts
Relations. Keys of relations
Normal forms. Results of normalization
Relational operations
Getting Started with DB
Differences between SQL and relational theory
RDBMS MySQL
Database client application Squirrel
Quick notes of SQL syntax
Table definition tools and data manipulation
Table definition tools
Subordinate relations
Data integrity constraints
Data manipulation. Part 1 Fetching data from table
Training database and input data
Formulating the task
Answering the questionnaire
SELECT statement syntax
Semantics of query
Composing SELECT step by step
Fetching data from the table - WHERE clause
The concept of a predicate. Rules of the logical expressions
Comparisons predicates, LIKE, BETWEEN, IN, IS NULL, MATCH
Fetching data from the table - aggregation
Aggregate functions
HAVING clause
Operators DISTINCT and ALL
Practice tasks set №1 Fetching data from the table - subqueries
The scheme of subquery work
Subqueries in WHERE clause. Predicates once again
Subqueries in columns
Subqueries in the FROM clause
Fetching data from the tables – joining tables
Relationship with the relational theory
What might be in the FROM clause
Joining tables using JOIN operator
Inner Joins
Outer Joins
Join on inequality
The union, division, subtraction
Data Manipulation. Part 2 Adding data to a table - INSERT Changing table data - UPDATE Adding-or-changing(merging) table data – INSERT … ON UPDATE Deleting data from a table - DELETE e. Merging data. Practice tasks set №2 Recursive queries
The concept of hierarchical data representation
Data processing hierarchy by using the adjacent data model
Data processing hierarchy using the nested set model
Triggers
Triggers usage
Imposing corporate constraints
BEFORE and AFTER triggers
INSERT, UPDATE and DELETE triggers
ROW and STATEMENT triggers
Special objects OLD and NEW
Creating Views
Advantages and disadvantages of creating views
Updatable views.
Views with restrictions
Authorization tools
Data dictionary
Users manipulation
Granting and revoking rights
Access levels
Transaction Management
ACID transaction
Transactions phenomenon
Isolation levels
Query performance tuning
Large amounts of data
Query planner
Indexing
Partitioning
Join algorithms
Practice tasks set №3 Database Design using UML
Requirements Analysis
Creation of class diagram
Association, composition and aggregation relationships
Transition from classes diagram to the ERD
Final project: creation of billing system of mobile operator
Preparation of functional requirements for project
Preparation of technical requirements
Creation of database
Filling the database and calculation the necessary indicators
Composing of user's bill
To be able successfully to attend our training sessions you have to have the B2 level of English at least.
Last updated Nov 2017
About the School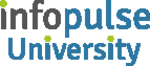 Infopulse University is an education community that provides various trainings in Information Technologies. We will help you to join the IT-world of cutting-edge technologies, fascinating ideas and in ... Read More
Infopulse University is an education community that provides various trainings in Information Technologies. We will help you to join the IT-world of cutting-edge technologies, fascinating ideas and innovative society.
Read less