Course: Distance Specialization in Financial Management
Program Description
Distance Specialization in Financial Management
The Specialization in Financial Management approved in accordance with the rules in force in Colombia aims at training specialists with the skills enough to properly manage the financial resources of the organization, regardless of their economic and social activity, thus seeking to consolidate governance and feasibility processes to maximize the value of the company.
The curriculum comprises core, cross-curricular and elective study units contributing to the consolidation of the comprehensive academic training in the discipline and in the area of professional interest. These study units are designed to develop skills for managing the financial resources of organizations on a comprehensive basis. The curriculum is characterized by its flexible organization, its non-preconditions requirements, the combination of studies at Universidad EAN supporting the pedagogical model of distance learning and the use of technological tools, and the participation of Universidad Politécnica de Madrid (Spain) as an ally providing the academic background and experience of a university belonging to the European Union."

COMPETENCIES
Identify, formulate and evaluate viable business opportunities which can be converted into actual business initiatives.
Formulate and develop financing and investment strategies based on an objective assessment of their advantages and disadvantages.
Formulate and develop strategies for liquidity, cost and expenses structure, working capital, capital structure and dividends.
Assess, quantify and manage the influence of controllable and uncontrollable risk on the setting of capital costs and interest rates for the investor.
Quantify and optimize the return on investment portfolios, capital costs and the creation of business value.
Make investment decisions based on the characteristics, advantages, and disadvantages specific to the different roles in the markets of the financial sector.
Make a decision on investment and financing, analyzing the financial effects of the risks posed by inflation, interest and exchange rates.
Solve the financial management problems related to the acquisition, allocation, and administration of resources.
Conceptualize, design, implement and appropriately use information systems that support planning and diagnostic processes in business management.
Explore, identify, develop and evaluate financing and investment opportunities in domestic and international economic environments, based on an understanding of global business culture.

ADDITIONAL BENEFITS
Continuous support from important tertiary institutions such as Universidad EAN and Universidad Politécnica de Madrid–CEPADE, renowned for the high quality of their academic programs.
Validation of credits in order to complete other postgraduate programs offered by Universidad EAN.
Plan your study time according to personal needs without interfering with official duties or employment.
Access to modern communications technologies and online services (e-mail account, videoconferences, videos and other virtual features, thematic forums, technical assistance, evaluations, etc.).
Virtual access to specialized national and international bibliographies and databases.
The methodology which places high importance on the use of case studies and active pedagogies that combine theory with the real business world.
Support in carrying out applied formative research.
Last updated Nov 2017
About the School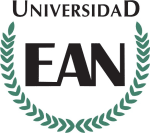 EAN University is a Colombian high education institution located in Bogotá's Metropolitan area. At EAN, students experience diverse activities for their professional development.
EAN University is a Colombian high education institution located in Bogotá's Metropolitan area. At EAN, students experience diverse activities for their professional development.
Read less