Program Description
Start your career as a personal trainer or fitness instructor with this hands-on, practical one-year course. It will give you the knowledge and skills to design, demonstrate and lead exercise programmes for individuals or groups.
You will learn to instruct and lead early in the course and practice until you are comfortable with pre-participation medical screening, fitness assessment, design programmes, instructing exercise and much more. You'll gain knowledge on training principles, methods and programme design with the skill to conduct these in a client sensitive manner.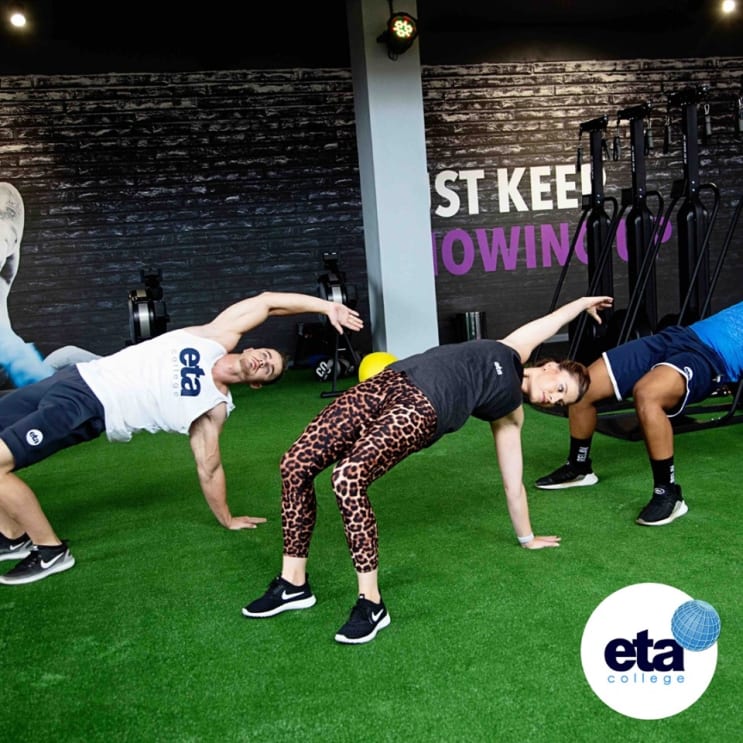 We recommend that you add additional qualifications like the National Diploma: Fitness so that you can enhance your employment prospects nationally and internationally or run your own private practice. If you add additional specialisations to your course, you can offer your clients' more options and enhance your employment prospects.
Link to Website: https://www.etacollege.com/sports-courses/national-certificate-fitness/
Accreditation
This NQF level 5 Learning programme is accredited by CATHSSETA.
Aim of the course
The National Certificate qualifies you to work in the fitness industry as personal trainers. All eta fitness qualifications are recognised by the Register of Exercise Professionals South Africa (REPSSA) which links its members to the international registers of REPS, enabling you as an eta graduate to work where the Register of Exercise Professionals (REPS) operates, including Europe, UK, Australia, New Zealand, USA and South Africa.
Course objective
During this learning programme, you will be exposed to the theories of exercise science, the applied knowledge of exercise programming with its range of methods and techniques, and the skills of leading and instructing individuals or groups through a range of exercise training sessions. To gain confidence while you are learning, you will complete a range of practical hours through work-based learning experience. Once you have graduated you can work as personal trainer in an established fitness facility; alternatively, you can run your own practice, taking on a range of private clients.
Course content
Kinesiology
Anatomy and Biomechanics: Learn about the anatomical structures of the human body as well as their relationship to each other. Describing the skeletal and muscular structures and explaining their movements.
Sport and Exercise Physiology: This module covers the physiological functions of the associated structures of the human body. You will learn how physiological systems work in relation to exercise and sport and the physiological process that govern the different body systems.
Biomechanics and Training Methods: The concept of biomechanics, and how it relates to human movement, learning about the physical laws of movement in relation to the execution of a given movement, skill or training technique.
Screening, Assessment and Programme Design
Screening: Learn how to conduct a screening process that identifies a client's readiness to participate in physical activity. You will also learn about the scope of practice of a personal trainer, and who you are able to train.
Assessment and Fitness testing: Learn procedures that are scientifically validated so that you can carry out sub-maximal tests and interpret results, based on scientifically accepted norms.
Nutrition principles: This module covers the principles of nutrition with practical ways to identify a client's diet and provide educated recommendations, based on current scientific principles of healthy eating.
Designing Exercise Programmes: Learn to designing exercises programmes based on current fitness levels and goals and ensuring sound, technically correct with the principles of progression and modification.
Wellness: This module deals with the concepts of wellness and how to practically apply wellness practices to fitness programmes.
Motivation and communication: Understand theories of motivation, goal setting and how to help clients with this knowledge.
Leading and Instructing individuals or groups
Instructing individual and group exercise sessions: Identify key aspects of teaching exercise and learn class planning and how to instruct safe and effective exercise sessions.
Health and Safety
Safety and risk management: Plan, manage and implement a risk management strategy in the workplace. Learn the immediate actions required in the event of injuries.
Special needs and disabilities: Understand criteria involved in training a client with special needs or a disability; how to include, assist and support clients with disabilities, adapting exercise and the environment.
HIV and AIDS: This module deals with issues surrounding HIV and AIDS, giving insight into the complexities of training individuals with HIV and AIDS.
Business Management
Entrepreneurship and business management: Learn the fundamentals of business management in the context of a running a small private business.
Fitness Facility Management: Focus on risk management plans based on current practice, which will give you an understanding of the rigour involved in operating and managing your own fitness facility.
Workplace Communication: Identify the most appropriate method of communication within the work environment.
Admission requirements
The minimum recommended requirement for admission is the National Senior Certificate (NSC), elementary achievement (30-39 %). Recommended: Minimum of 40% in English.
Career opportunities
Personal Trainer
Corporate Wellness consultant
Group Exercise Instructor
Testimonials
Hallo Chris,

Hope you are well. Thank you so much for your assistance and the excellent service in my application to eta college's online course!

I have received my confirmation of registration and am super excited to be enrolled for the course! Must admit – that if I didn't have your assistance, I would probably not have made the registration in time and missed my opportunity to complete my certification.

So please know that I am extremely grateful for this service which you have provided me with – and will recommend eta to everyone I know! Well done on making my registration as painless and smooth as possible.

Looking forward to hearing from your team soon!

Thanks,

Imke

To whom it may concern,

Dealing with eta college, and in particular Christopher Morris and the distance learning department, has been an absolute pleasure. The service was excellent, and Chris so kindly helped me with all my questions and queries. I look forward to joining the eta team and have high hopes for the future after my pleasant experience with you guys thus far.

Kind regards,

Shaylee

Hello Shani, (Shannette)

Hope you well and warm.

I just also want to add a very big thank you for all the effort and personal interest you've invested in us.

I am grateful to see that the world still has someone like you and sometimes I lose faith in the human race, but you give me new hope that there are amazing people out there.

You are a beautiful person inside and out, don't ever change that for anyone. Your presence in any crowd is an instant glow don't ever lose your magic you have a beautiful gift.

Back to work

love peace and lipgloss

Najemeya

Whoop whoop - Thanks Shereen

Also thanks for your kind words - gives me much encouragement.

I will be submitting my Umpiring Log Book and Certificate soon. Netball South Africa will be holding a Coaching Level 1 course towards end September, which I will be doing just before I go away.

Thank you again for everything you do for me and for all other students, you are a true asset to eta Distance Learning Department.

Have a great day

Andrea

Dear Shereen,

Thank you so much for your help and support during my first year. I really value your guidance.

What's the plan for next year and where do we go from now?

I would like to pay for my 2nd year. When does the 2nd year start?

Kind Regards,

Graeme

Good day,

My name is Lonwabo, I am 20 years of age. Earlier This year I completed a National Certificate in Sports Management through eta Distance Learning.

For the first three months of 2017, I was at the eta Cape Town campus but decided to switch my studies to an online platform of which worked exceptionally well for me.

Distance Learning taught me how to manage my time, think outside the box and the professionalism required in the industry.

I truly believe online studies is the way forward. A friend of mine saw how I enjoyed it and he became interested in going the same direction when he matriculates. Getting fellow youngsters, or even perhaps older members of society to study through eta would be a dream come true.

My heart beats for eta,

I hope this finds you well

Lonwabo

Good day Janice,

I would like to take this opportunity to thank you and eta as I have learned a great deal through eta College's Distance learning program. I still use the notes and templates from previous assignments and CASS assessments to assist me with running an amateur club now. I would definitely do it all again but only difference I would manage my time better. I honestly struggled in the second year especially after the college switched a paperless system, but then got into it.

Thank you for setting me on course for achieving my life goals and dreams,

Kindest regards,

Kabelo

My time as an eta Distance Learning student has been as follows:

My two years have been good. eta Distance Learning department has been an excellent experience, the tutor has been excellent in helping me out with where I did not understand what to do, would always take her time to try explain in the best way possible which was a great help in me doing well, the management of eta DL has been great as well, as well as very helpful and patient and yet also understanding which is a good thing. The responsiveness whether it be queries or just general work-based advice has been great, they respond as soon as they can. The eta Connect student study portal has been very efficient and easy to use and is always a great thing because there's not one time I got confused on what was required of me to been done.

The standard that eta Distance Learning upholds is great and will be a great help for any student enrolled to the college.

Thanks,

Kirsten

Dear Chris,

I wanted to share my online experience with you.

eta Distance Learning is well ahead technology-wise WRT to the programs they are using, which really helps a lot.

Unfortunately, I was wrongly registered for the coaching instead of the certificate of fitness, but that was quickly rectified by Shireen I think, and luckily, I did not miss anything or jeopardized anything relating to my studies.

I am very fond of the dashboard as it is user-friendly, reminds you of assignments, tests, announcements etc.

The tutor Aubrey Stout was very helpful. He would respond swiftly to my numerous questions and assist via online chats.

So far I had a great experience which will come to an end in November.

Thank you, eta Distance Learning, for giving me quality education!

Regards, Bernadette.
Interested or wanting to apply? Please visit: Distance Learning Intakes 2020
Our next intake commences on the 13th July 2020 – WARNING: NO LATE REGISTRATIONS! – Registrations will close on the 30th June 2020.
Should you require any additional information regarding eta Distance Learning or If you need assistance applying please do not hesitate to contact me so I can get you on board.
Chris Morris – 081 363 2708/ +2781 363 2708 (whatsapp)
Kind regards,
Last updated May 2020
About the School
eta College is a private higher education and training college specialising in qualifications that lead to employment in the sport and fitness industries.
eta College is a private higher education and training college specialising in qualifications that lead to employment in the sport and fitness industries.
Read less