Certificate in Culinary Skills (Online)
Home ›
Certificate in Culinary Skills (Online)
Program Description
Program Details
Program Code: 1862
School: School of Hospitality, Tourism and Culinary Arts
Credential: Ontario College Certificate
Program Type: Post-secondary program
Program Length: 1 year/ 2 semesters
Start Date: Fall, Winter, Summer
Location: Online
Program Overview
Centennial College's Culinary Skills program is well-rounded and will take just one year to complete. This college certificate program will emphasize a culinary skills foundation while sourcing local Ontario food products and teaching the art of seasonal cooking.
From industry-leading chef faculty members, you'll learn to prepare exquisite menus and dishes inspired by global food trends and flavors. These dedicated instructors will provide you with the training and learning experiences that will ensure you master culinary fundamentals, ingredients, food preparation, and all of the other skills required to enter this exciting industry. You'll also come to understand that a career in the culinary field is fueled by passion and rewarded through skill development.
Upon successful program completion, you'll obtain important industry certifications such as Smart Serve, Safe Food Handlers, and CPR, which will increase your employability.
It's Your Shift Training and Awareness Program
The program will include an innovative industry training and awareness certification, It's Your Shift. The certification will equip you with crucial knowledge and provide current resources focused on sexual harassment prevention and safe practices for intervention as a frontline worker or manager. It will support you, as you enter the hospitality industry, to become a leader for the prevention of sexual harassment and contribute to the evolution of safe and welcoming work environments.
The Ocean Wise Program
The School of Hospitality, Tourism, and Culinary Arts and The Local Cafe and Restaurant use delicious and ocean-friendly Ocean Wise products. Ocean Wise is a conservation and education program that works with chefs, restaurants, and seafood suppliers to help them with sustainable seafood sourcing.
Feast On® Certification
Centennial College's School of Hospitality, Tourism, and Culinary Arts has become the first academic institution to receive Feast On® certification for its sourcing of local food and beverage products used in the academic programs and the School's experiential-learning foodservice operations. The Culinary Tourism Alliance established Feast On as a certification program that recognizes businesses committed to sourcing Ontario-grown and -produced food and drink.
Program Highlights
You learn from instructors who have years of industry experience.
Graduates of the Culinary Skills program can transition directly into the Culinary Management diploma program.
Program Outline
Semester 1
Semester 2

COMM-160/161 College Communication 1
COOK-101 Principles of Nutrition
COOK-104 Cook's Desserts
COOK-105 Theory of Food
COOK-111 Culinary Skills
GNED General Education Elective
HOSP-101 Introduction to Computers (Online)
HOSP-102 Food Safety, Smart Serve, First Aid
HOSP-115 Math for Hospitality

COMM-170/171 College Communication 2
COOK-202 Catering Culinary Operations
COOK-204 Cuisine and Culture
COOK-210 Kitchen Management I
COOK-211 Culinary Skills II
COOK-222 Restaurant Culinary Operations
COOK-250 Food and Tourism Elective
HOSP-320 Principles of Food, Beverage
and Labour Cost Control
Program Vocational Learning Outcomes
Program Vocational Learning Outcomes describe what graduates of the program have demonstrated they can do with the knowledge and skills they have achieved during their studies. The outcomes are closely tied to the needs of the workplace. Through assessment (e.g., assignments and tests), students verify their ability to reliably perform these outcomes before graduating.
Provide fundamental culinary preparation and presentation for a variety of foodservice environments using a range of classical and contemporary techniques.
Apply basic food and bake science to food preparation to create the desired end product.
Contribute to and monitor adherence of others to the provision of a well-maintained kitchen environment and to the service of food and beverage products that are free from harmful bacteria or other contaminants, adhering to health, safety, sanitation, and food handling regulations.
Ensure the safe operation of the kitchen and all aspects of food preparation to promote healthy workspaces and the responsible, efficient use of resources.
Support the development of menu options that reflect knowledge of nutrition and food ingredients, promote general health and well-being, respond to a range of nutritional needs and preferences, and address modifications for special diets, food allergies, and intolerances, as required.
Apply fundamental business principles and recognized industry costing and control practices to foodservice operations to promote a fiscally responsible operation.
Apply basic knowledge of sustainability*, ethical and local food sourcing, and food security to food preparation and kitchen management, recognizing the potential impacts on food production, consumer choice, and operations within the foodservice industry.
Use technology, including contemporary kitchen equipment, for food production and promotion.
Perform effectively as a member of a food and beverage preparation and service team and contribute to the success of a food-service operation by applying self-management and interpersonal skills.
Develop strategies for continuous personal and professional learning to ensure currency with and responsiveness to emerging culinary techniques, regulations, and practices in the foodservice industry.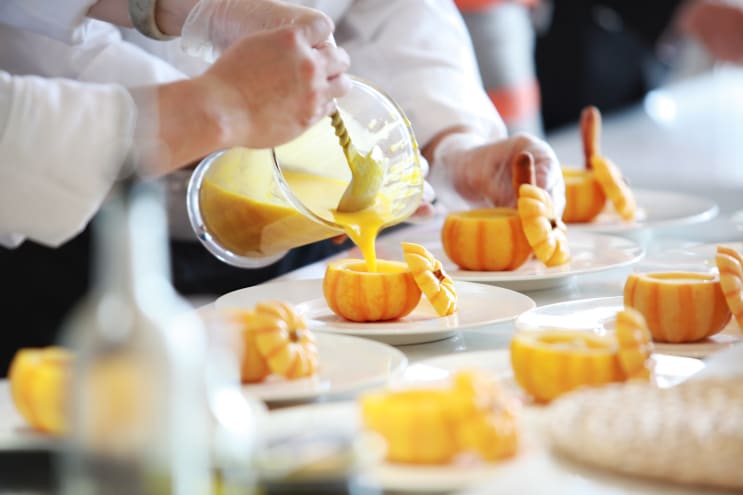 Career Options, Academic Pathways, and Partners
Educational Partners
Should you wish to continue your education upon successful completion of this Culinary Skills offering, you may apply transfer credits to the School of Hospitality, Tourism and Culinary Arts' two-year Culinary Management program.
After graduation of the Culinary Management program, students can articulate directly to the Bachelor of Hospitality Management program at Vancouver Island University, allowing you to also complete a degree in an additional 2 years.
Career Outlook
Baker
Cook
Caterer
Kitchen Manager
Admission Requirements
Academic Requirements
Ontario Secondary School Diploma (OSSD) or equivalent, or mature student status (19 years or older)
English Grade 12 C or U, or equivalent (minimum grade required) or take the Centennial College English Skills Assessment for Admission
Note:
After successfully completing this program, you may enter the third semester of the Culinary Management program.
Additional Requirements
English language proficiency
Last updated Jul 2020
About the School

Centennial College is Ontario's first public college with five campuses in Toronto, Canada. Centennial offers high-quality Canadian Education that is hands-on and employment-focused. Programs at Cente ... Read More
Centennial College is Ontario's first public college with five campuses in Toronto, Canada. Centennial offers high-quality Canadian Education that is hands-on and employment-focused. Programs at Centennial promote experiential learning with laboratory instruction, co-op education, and industry placements
Read less