Certificate in Applied Counselling Studies
Home ›
Certificate in Applied Counselling Studies
Program Description
Instruction in English only

Specialization-- the next step in broadening your clinical practice.
What our students have to say
Join our global student community… study online, anywhere in the world.
Enhance your career as a mental health professional.
Continuous enrollment. Accelerated programs. Earn a specialized Certificate in just 7 months.
Culturally diverse, evidence-based curriculum.
Accredited, affordable, and approved for professional designation.
The Certificate in Applied Counselling Studies is designed for counselors and therapists who wish to expand their areas of clinical practice and open up career opportunities in private practice and mental health agencies. The specialized curriculum provides practical knowledge and skill training, applicable to all types of counseling settings. Practitioners can choose from a broad assortment of courses.

Certificate of Applied Counselling Studies
The 7-month Certificate program is made up of 9 courses, each course 3 weeks in length. The program is geared to individuals with prior learning or experience in the mental health field, who intend to enhance their knowledge and clinical skills in one specific area of clinical practice such as:
Sex and Intimacy Counselling
Youth and Family Counselling
Life Skills Coaching
Support Counsellor
Community-Based Counselling
Pastoral Counselling
Practice of Psychotherapy
Or a customized certificate

Top 3 benefits of KCPC's online courses
Study from the comfort of home, and avoid travel expenses;
Interactive assignments simulate counseling sessions with you in the role of the counselor;
Textbooks delivered right to your door along with access to over 200 demonstration videos featuring renowned authors and practitioners.

Professional Development - Expand your career
Selecting the right training for professional development is a major concern for you, and for us, too. We encourage applicants to research, and carefully weigh your options. Compare the quality of education being offered against the financial and time commitment required.
Students tell us that completing requirements for professional development and/or additional training in the shortest amount of time is a priority. For them, an accredited competency-based college program that requires less than half the time and money as a university degree makes the most sense.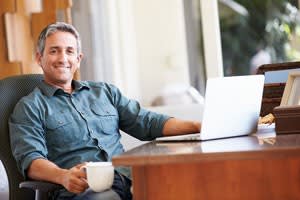 Getting started at a glance
Admission Requirements: Adult Student Status of 19 years of age, and 1-year experience working in the mental health field or a Diploma in Counselling. Undergraduate degree required for Certificate program specializing in Psychotherapy.
Cost of tuition (includes texts and materials): Domestic students: 7-month Certificate program: $7,420 CAD. Additional 15% charge for international students.
Start dates: Continuous enrollment, courses start every 3 weeks.
Language: Must demonstrate fluency (written and verbal) in English.
Transferability to university programs: KCPC's faculty, curriculum, and textbooks are comparable to undergraduate and graduate University programs. Certain KCPC course credits are approved for transfer to the University of British Columbia; Trinity Western University; and other Universities at the discretion of their admissions departments.

Requirements to earn a Specialized Certificate
Complete 9 required courses related to an area of specialization; fulfill the volunteer requirement.
Pass each course with a minimum of 65%.
Compile a portfolio of counseling skills.
Demonstrate competency in the chosen area of specialization by passing a comprehensive proficiency exam.
Last updated Jan 2019
About the School
KCPC takes a laser-like approach to training… zeroing in on theories and specific skills so graduates are ready to hit the ground running. KCPC meets the highest standards for private career colleges ... Read More
KCPC takes a laser-like approach to training… zeroing in on theories and specific skills so graduates are ready to hit the ground running. KCPC meets the highest standards for private career colleges in British Columbia. Students from all over the world can be confident in the quality of education that we offer.
Read less