Btec 7 extended diploma business management and communication
Home ›
Diploma ›
Btec 7 extended diploma business management and communication
Program Description
Specialize in communications and pursue your studies abroad
Training Presentation
BTEC's (Business Technician Education Council) are international diplomas in partnership with the Pearson Group, world leader in the field of education, and designed to give learners of professional skills through a wide range of industries. The BTEC programs, currently comprising more than 3 million students across 90 countries based on several objectives and benefits :
internationalization of education
an educational approach favoring autonomy and adaptability learners
official recognition of diplomas and European equivalents (ECTS)
growth and international academic partnerships (BA, MA).
The BTEC Extended Diploma 7 Business and Communication Management (Level II, 4 + vat) trains managers oriented communication strategies, advertising, communication budget management. Managerial skills acquired through this cycle also provide access to business management-related activities, teams and the development of knowledge.
Entry level: Bac +3
Output level: Bac +4
ECTS credits: 60
Duration: 1 year
Distance Learning
to study abroad training
Admission terms
Eligible (file interview) candidates holding at least an equivalent degree bac + 3:
Licence
Title RNCP Level II
BTEC 6
Program
First period:
DEVELOP SKILLS IN STRATEGIC MANAGEMENT AND LEADERSHIP
PROFESSIONAL DEVELOPMENT FOR MANAGERS STRATEGIC
STRATEGIC MANAGEMENT OF CHANGE
DEVELOP THE CORPORATE CULTURE
CONDUCT AN E-STRATEGY
STRATEGIC MARKETING MANAGEMENT OF
COMMUNICATION STRATEGIES OF ORGANIZATIONS
Second period:
MANAGEMENT OF CORPORATE RESPONSIBILITY IN MACROECONOMIC ENVIRONMENT
STRATEGIC MANAGEMENT OF HUMAN RESOURCES
STRATEGIC MANAGEMENT: QUALITY AND SYSTEMS
STRATEGIC PLANNING
DEVELOPMENT AND IMPLEMENTATION PROJECT IMPLEMENTATION
+ Internship (or alternately or employed) lasting 8 weeks minimum, in France or abroad, in connection with the chosen specialty.
Validation of acquired experience
The diploma is accessible through VAE, no diploma requirement. Learners who wish to integrate this degree must enter a certification file.
Diploma Validation
Rating System:
research followed with a tutor per unit
Participation and attendance *
E-portfolio of professional skills
Graduation is subject to validation of all its constituent units and corresponding ECTS. The diploma is the BTEC 7 in Strategic Management and LeadershipUnder the authority of the certification, Pearson Education. The degree is controlled and recognized by Ofqual (Office of the Qualifications and Examinations Regulator), the British equivalent of the French RNCP.
Continuing Studies
After obtaining BTEC Extended Diploma 7 in Strategic Management and LeadershipA continuation of studies is possible:
By directly integrating the second year of study an MBA cycle (niv.I, + 5 bin), training open and distance, in France or abroad, such as the MBA Business and Marketing Management by example
By integrating foreign universities offering BTEC's: Heriot-Watt University, University of Greenwich, Middlesex University, University of Sunderland, Birmingham City Business School, Cardiff Metropolitan University, University of Derby ... (Not exhaustive)
By integrating a European chain with the Master (*) European Communication
(*) The "European Master" here refers to a level of education bac + 5 and not a degree "Master" conferring a university degree "Master" state monopoly.
Last updated Mar 2020
About the School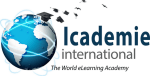 Icademie International est la première Online International Business School. L'école de commerce propose des diplômes allant du post BAC au BAC+5 en Français, reconnu par l'état et dans plus de 90 pay ... Read More
Icademie International est la première Online International Business School. L'école de commerce propose des diplômes allant du post BAC au BAC+5 en Français, reconnu par l'état et dans plus de 90 pays.
Read less