Btec 5 HND Business and Marketing
Program Description
Form in marketing with a British degree recognized internationally
Presentation of the diploma
The BTEC's (Business Technician Education Council) are International diplomas in partnership with the Pearson group, The world leader in the field of education, and designed to give learners of professional skills through a wide range of industries. The BTEC programs, currently comprising more than 3 million students across 90 countries, Based on several objectives and benefits:
internationalization of education
an educational approach favoring autonomy and adaptability learners
official recognition of diplomas and European equivalents (ECTS)
growth and international academic partnerships (BA, MA).
Managerial skills gained through this BTEC HND 5 (Higher National Diploma) Business and Marketing also allows to project on international marketing activities (eg understand the fundamentals of marketing, corporate strategy ...) as well as financial management and digital marketing.
Entry level: Bac
Output level: +2
ECTS credits: 120
Duration: 2 years
Distance Learning
to study abroad training
Admission terms
Eligible (file interview) candidates holding at least an equivalent degree to the ferry:
ND (National Diploma)
ferry
Title RNCP Level IV
DAEU
BPJEPS
Program
First year:
BUSINESS AND ECONOMIC ENVIRONMENT
FUNDAMENTALS OF MARKETING
HUMAN RESOURCES MANAGEMENT
MANAGEMENT AND OPERATIONS
FINANCIAL MANAGEMENT
EFFECTIVE MANAGER A BUSINESS PROJECT
MARKETING INNOVATION
ENTREPRENEURSHIP AND MANAGEMENT OF SMEs
Second year:
RESEARCH PROJECT
COMPANIES AND BEHAVIOUR
DEVELOPMENT OF PRODUCTS AND SERVICES
UNDERSTANDING MARKETING AND COMMUNICATION
DIGITAL MARKETING
CONSUMER BEHAVIOR ANALYSIS OF
INTERNATIONAL MARKETING
Training process
This program of study lasting 2 years (1200 hours) is a distance learning program providing 60 credits per year (120 ECTS credits in total). It can be achieved by alternation (Professional contract), in training or initial training.
Training opened remotely with this Icademie the interest of a wide flexibility thanks to its formula of learning in e-learning remote combination :
Unlimited access to the platform Icademie 24h / 24 and 7/7 regardless of where you are
Detailed course, many exercises and case application
A permanent support by trainers-tutors via forums, conference calls, during video
Individual and group work supervised by expert tutors in their field
regular White homework and exams
Immediate start at any time of the year.
Validation of acquired experience
The diploma is accessible through VAE, no diploma requirement. Learners who wish to integrate this degree must enter a certification file.
Training validation
Rating System:
Research project
Participation and attendance
Evaluations 2 times a year
Annual Review and Professional Project Personnel
E-portfolio of professional skills
Graduation is subject to validation of all its constituent units and corresponding ECTS. The Diploma is issued 5 BTEC HND the Business and Marketing, under the authority of certification, Pearson Education. The degree is controlled and recognized by Ofqual (Office of the Qualifications and Examinations Regulator), the British equivalent of the French RNCP.
Continuing Studies
After obtaining BTEC HND Business and Marketing 5A continuation of studies is possible:
By pursuing an international training cycle opened remotely, in France or abroad, thanks to one of our 6 BTEC Business Innovation Management and Marketing International (niv.II, +3)
By integrating foreign universities offering BTEC's: Heriot-Watt University, University of Greenwich, Middlesex University, University of Sunderland, Birmingham City Business School, Cardiff Metropolitan University, University of Derby ... (Not exhaustive)
By preparing a French RNCP title as Bachelor of Marketing and Communication (niv.II, +3)
Last updated Mar 2020
About the School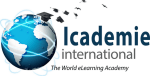 Icademie International est la première Online International Business School. L'école de commerce propose des diplômes allant du post BAC au BAC+5 en Français, reconnu par l'état et dans plus de 90 pay ... Read More
Icademie International est la première Online International Business School. L'école de commerce propose des diplômes allant du post BAC au BAC+5 en Français, reconnu par l'état et dans plus de 90 pays.
Read less