Program Description
If you are tired of basic webinars and theoretical courses, welcome to the place where content is carefully curated to give you the maximum inspiration and learning. Boost your branding and strategy skills by learning from the top people in the industry and hearing how they think, create and lead.
Who attends this programme
Creative and design directors
Brand managers and strategists
CMOs and heads of marketing
Graphic, digital and packaging designers
Professionals who are passionate about branding
You will learn
Where to find brand purpose and build a future-focused strategy
How to use motion design to enhance brand personality
How to write your brand story
What you need to understand about custom fonts and emotional typography
How to translate branding into the digital environment
What big clients look at when selecting a branding agency
How becoming a B Corp can change your approach to branding
How to stay relevant as a brand beyond the trends
A 360 Brand Experience
Industry-Led: Get behind-the-scenes access to the top design agencies and hear how they approach branding, what frameworks they use and how they work with big clients
Tools and Frameworks: We carefully curated all content to make it inspiring and applicable. All PDF presentations are available for you to keep.
Self-Paced: No need to wait! All masterclasses are available to enjoy right now. Whether you prefer to binge-watch or saviour the experience and watch them at your own pace in your own time – the choice is yours.
Programme Structure
Chapter 1 - Purpose
Chapter 2 - Type Design
Chapter 3 - Copywriting
Chapter 4 - Motion Branding
Chapter 5 - Client Agency
Chapter 6 - Branding in UX
Chapter 7 - Creative Strategy
Price
On-Demand, £399 (Special price for the first 100 sign-ups. Full price – £499.)
Price includes: all Masterclass content, workshops, reading list, programme completion certificate.
FAQ
Q: How much time a day do I need to complete the experience?
A: Genuinely up to you, you can binge-watch all the content in one ago - it's just less than 6 hours of content. Or saviour the experience and watch a Masterclass a day.
Q: How long will I have access to the content?
A: 6 months
Last updated Jan 2021
About the School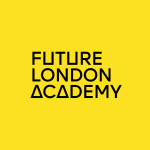 Future London Academy (FLA) is an educational organisation formed in 2013. We are an executive school for creatives.
Future London Academy (FLA) is an educational organisation formed in 2013. We are an executive school for creatives.
Read less