Bachelor's degree Energy Engineering
Home ›
Bachelor's degree Energy Engineering
Program Description
Specific Learning Targets
Graduates of the degree course in Energy Engineering must:
know how to apply the methods of mathematics and other basic sciences to interpret and describe Energy engineering problems;
know the various methodologies of Engineering sciences in general and those of Energy Engineering in detail;
identify, formulate and find a solution to Energy Engineering problems by applying updated methodologies and adequate techniques and tools;
know how to apply techniques and tools for the design of components, systems, and processes;
know how to perform experiments and analyses and interpret the data;
understand the impact of the engineering solutions in the social, physical-environmental context;
know their professional and ethic responsibility;
know the business context and culture in their financial, managerial and organizational aspects;
know contemporary contexts;
have relational and decisional skills;
fluently speak and write one of the European Union languages, in addition to the Italian language;
have acquired the specific skills to update their own knowledge.
Occupational and Professional Outlets
Professionals with this job title typically work in the fields of design, construction supervision, and testing of individual components or parts of machines and lines for the production, transmission, and distribution of energy, direct instrumental measurements of the technical parameters of plants and machinery. They can work as a professional consultant (junior industrial engineer), in manufacturing or service industries, and in the public administration.
The main occupational and professional areas in which the Energy Engineering graduates can find employment are:
municipal service companies;
public and private agencies operating in the energy supply sector;
manufacturers of components of electrical and thermomechanical systems;
design firms in the energy field;
companies and civil and industrial organizations that require the position of energy manager;
companies and organizations engaged in the conversion of energy.
Background knowledge required to access the degree course (Art. 6 D.M. 509/99) (potential assessment)
To be admitted to the degree course in Energy Engineering it is required:
a good knowledge of logic, mathematics, physics, and chemistry provided by the learning programmes
<li>of upper secondary school;</li> <li>the ability of explaining clearly and accurately one's thought in written and oral form;</li> <li>aptitude to use IT technologies;</li> <li>aptitude and motivation to study Engineering.</li>
With reference to the first point, adequate tests to prove basics knowledge can be submitted to all students and, in particular, to those who have an upper secondary school curriculum with blind spots in their grounding. If the assessment of the initial grounding does not succeed, students can be admitted with an Educational Debt.
In order to limit educational debts, Course of Study Council can anticipate the setting-up of preparatory learning activities to be performed before taking the test. Such activities can be performed in collaboration with upper secondary schools on the basis of special agreements.
Skills, attitudes, and motivations are verified through the assessment of the previous school curriculum or with possible and appropriate tests.
Final examination peculiarities
To be admitted to the final examination students must positively pass the assessment of their learning activity. The final examination can consist of:
a thesis dissertation (in English or in Italian) about one of the subjects studied during the degree course, written in an original way, under teacher supervision and with the help of one or more tutors, one of whom at least being a member of the degree course;
a written report of the laboratory project;
a report presentation concerning any experience gained during a period of internship among public or private authorities, institutions, companies, and administrations, under the tutelage of an internship supervisor and of a teacher of the degree course.
The ability to synthesize and the quality of the presentation in both written and spoken form will be taken into account, in addition to the quality of the work, to evaluate the final examination papers.
Last updated Feb 2018
About the School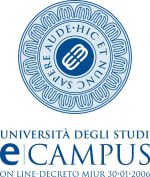 eCampus University is an accredited online University as well as a fully functional university campus offering three different online learning options: standard distance learning, an on-campus residen ... Read More
eCampus University is an accredited online University as well as a fully functional university campus offering three different online learning options: standard distance learning, an on-campus residential programme and a combined distance and residential programme (only for non-EU students).
Read less