Bachelor of Science in Public Health - Online
Home ›
BSc ›
Bachelor of Science in Public Health - Online
Read more about this program on the institution's website
Program Description
At South University, our Online Bachelor of Science in Public Health degree program can help you build the knowledge and practical skills to bolster the health of entire communities, regions, and even countries. In this online BS in Public Health program, you'll have the opportunity to learn how to assess the health needs of diverse populations at the local, national, and international levels, to plan and evaluate programs, and to advocate health promotion.
Your Public Health bachelor's degree online courses will cover topics like health communication, health disparities, legal and ethical issues, public health system management, and policy and research.
Outcomes
Our programs contain a curriculum that is developed with the input of working professionals and seasoned educators. This approach allows us to provide our students with course offerings that create a practical and valuable educational experience.
Explain and apply the basic concepts of public health including a historical perspective to the practice of public health at a local, national, and global level.
Recognize the biological and chemical basis of human health and disease and utilize that knowledge as a foundation for promoting health and wellness across the lifespan.
Relate the interconnectedness among physical, social, biological, and environmental factors to their impact on the health of individuals and communities and reasons for health disparities.
Evaluate the collection methods, source, and quality of health information and data as it relates to individual and community health and the evidence-based practice of public health at the local, national, and global levels.
Compare and contrast various governmental and non-governmental healthcare agencies, organizations, and systems in the United States and around the world and their role in individual and public health.
Describe how legislation, ethics, and economics impact public health policy and the effects on both individual and population health.
Discuss the role of public health professionals in the health of populations by identifying the needs of a community and the development and evaluation of health education programs.
Identify and assess methods and communication strategies including social media and electronic technology for health education and promotion campaigns and develop plans for communicating public health-specific information to a diverse population.
Apply the skills required to assess the public health needs of a community or population at the local and global levels and plan, implement, and evaluate programs to meet those needs.
Online Classroom
Haven't experienced online learning before or wondering what it's like to earn your degree online at South University? While the mode of learning is different from the traditional classroom experience with added convenience and flexibility, we hold the same high standards of academic excellence in the online classroom.
South University's online programs combine a curriculum designed for student outcomes and a classroom designed for flexibility and engagement. Our online classroom learning platform, Brightspace, provides you with a host of features to enhance your learning experience, including:
Advanced media content
Personalized navigation
Simplified online learning atmosphere
Access to digital books
Emailing and instant messaging options
We provide more than just an online classroom, bringing a range of campus experiences and services online. In addition, the online classroom is accessible on the go via mobile devices and with tools like the Pulse App. Pulse helps you stay connected and on track with your course by providing a number of features such as course calendars, readings and assignments, feedback and grades, and announcements.
Career Outlook
After earning your bachelor's in Public Health online, you'll be ready to impact and contribute to the delivery of essential public health services in government, community-based, and private sector health agencies. This program can also prepare you to continue your education and pursue graduate studies in public health and the health sciences.
Course Requirements
Bachelor of Science in Public Health: 182 Credits
Area I General Education Requirements: 68 Credits
Professional Development
ITS1000 Computer and Internet Literacy, 4 Credit Hours
UVC1000 Strategies for Success, 4 Credit Hours
Basic Communications
ENG1100 Composition I, 4 Credit Hours
ENG1200 Composition II, 4 Credit Hours
ENG1300 Composition III, 4 Credit Hours
SPC1026 Public Speaking, 4 Credit Hours
Mathematics and Statistics
MAT1001 College Algebra I, 4 Credit Hours
MAT1005 College Algebra II, 4 Credit Hours
MAT2058 Statistics, 4 Credit Hours
Natural Sciences
BIO1011 Anatomy and Physiology I, 4 Credit Hours
(must be taken concurrently with BIO1012 Anatomy and Physiology I Lab)
BIO1012 Anatomy and Physiology I Lab, 2 Credit Hours
BIO1013 Anatomy and Physiology II, 4 Credit Hours
(must be taken concurrently with BIO1014 Anatomy and Physiology II Lab)
BIO1014 Anatomy and Physiology II Lab, 2 Credit Hours
Arts and Humanities (choose two)
ENG2002 World Literature I: From the Ancient World to the Middle Ages, 4 Credit Hours
ENG2003 World Literature II: From Enlightenment to Modernity, 4 Credit Hours
ENG2011 Introduction to American Literature: 1865 to present, 4 Credit Hours
HIS1101 U.S. History I: Colonial to 1865, 4 Credit Hours
HIS1102 U.S. History II: 1865 to Present, 4 Credit Hours
HUM1001 History of Art through the Middle Ages, 4 Credit Hours
HUM1002 History of Art from the Middle Ages to Modern Times, 4 Credit Hours
HUM2101 World Civilization I: Prehistory to 1500 C.E., 4 Credit Hours
HUM2102 World Civilization II: 1500 to Present, 4 Credit Hours
PHI2301 Introduction to Philosophy, 4 Credit Hours
REL1001 World Religions, 4 Credit Hours
Social and Behavioral Sciences
ECO2071 Principles of Microeconomics, 4 Credit Hours
PSY1001 General Psychology, 4 Credit Hours
SOC1001 Introduction to Sociology, 4 Credit Hours
Area II Major Foundation Requirements: 16 Credits
AHS1001 Medical Terminology, 4 Credit Hours
CHM1010 General Chemistry, 4 Credit Hours
NTR2050 Nutrition, 4 Credit Hours
PSY2022 Human Growth and Development, 4 Credit Hours
Area III Major Requirements: 98 Credits
Core
BIO1020 Biology I, 4 Credit Hours
BIO2015 Human Pathophysiology, 4 Credit Hours
BIO2070 Microbiology, 4 Credit Hours
(must be taken concurrently with BIO2071 Microbiology Lab or BIO2073 Microbiology Laboratory; BIO2073 is required for BSN students; RN to BSN students can take either)
BIO2071 Microbiology Lab, 2 Credit Hours
(online)
BIO2073 Microbiology Laboratory, 2 Credit Hours
(campuses)
BIO3344 Principles of Genetics, 4 Credit Hours
HCM2005 Healthcare Delivery and Organization, 4 Credit Hours
HSC2010 Medical Sociology, 4 Credit Hours
HSC3002 Environmental Health, 4 Credit Hours
HSC4010 Epidemiology and Disease Control, 4 Credit Hours
HSC4021 Health Promotion and Wellness, 4 Credit Hours
PHE2001 Introduction to Public Health, 4 Credit Hours
PHE3001 Legal and Ethical Issues in Public Health, 4 Credit Hours
PHE3025 Research Methods in Public Health, 4 Credit Hours
PHE3050 Public Health Policy, 4 Credit Hours
PHE3070 Medical and Public Health Informatics, 4 Credit Hours
PHE4015 Introduction to Global Health, 4 Credit Hours
PHE4030 Foundation of Health Communication, 4 Credit Hours
PHE4055 Public Health Planning and Evaluation, 4 Credit Hours
PHE4070 Management and Administration of Public Health Systems, 4 Credit Hours
PHE4120 Health Disparities and Minority Health, 4 Credit Hours
PHE4200 Capstone in Public Health, 4 Credit Hours
Elective Pool (16 credits):
Transfer students may transfer any course to help fulfill the elective pool requirements, provided the course meets the standards of the Credit for Transcripted and Non-transcripted Work policy found in the Academic Affairs section of this catalog.
Non-transfer students, with their advisor's consultation and approval, may choose courses from any department recommended and listed course or more broadly from any course offered by South University. Work from other fields must include any required prerequisite courses in the elective field.
A course can be used to meet only one requirement in Area I, Area II, or Area III, but not simultaneously in two areas. Students should work with their academic advisor or counselor to be sure they are making appropriate course choices.
BIO1021 Biology II, 4 Credit Hours
BUS2023 Business Communications, 4 Credit Hours
HCM3006 Healthcare Marketing and Strategy, 4 Credit Hours
HCM3008 Health Information Management Systems, 4 Credit Hours
HSC3004 Complementary and Alternative Health, 4 Credit Hours
HCM3020 Managed Care, 4 Credit Hours
HCM3030 Federal and State Healthcare Programs, 4 Credit Hours
HSC4000 Contemporary Issues in Aging, 4 Credit Hours
HSC4030 Women and Minority Health Issues, 4 Credit Hours
HSC4040 Emergency and Disaster Management, 4 Credit Hours
UVC4000 Career Exploration Seminar, 4 Credit Hours
Note(s):
South University, Online Program offerings may not be available to residents of all states. Please contact an admissions representative for further information.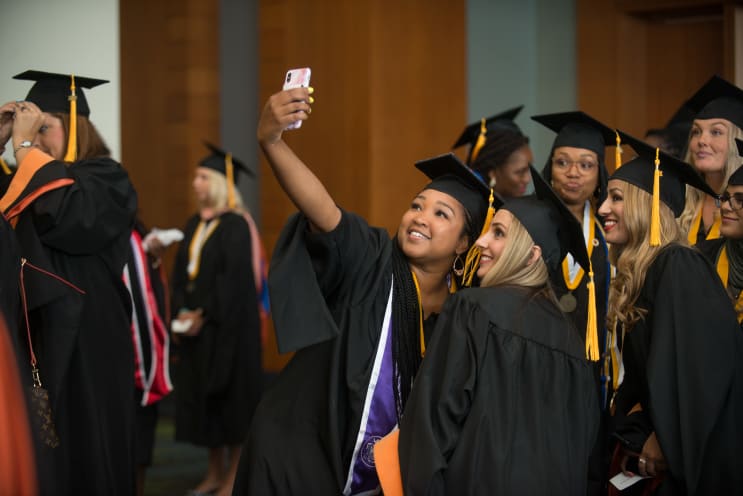 How to apply
We make the application process as smooth as possible so you can start earning your degree right away. Our admissions representatives will guide you through our three-step process.
To get started, call 888-444-3404, to speak with an Admissions Representative or fill out our request information form.
An admissions representative will review our degree programs with you, give you an overview of the admissions process, and help you complete the application process. You can take a guided tour of our campus or a virtual tour online. Apply Now
A Finance Counselor will work with you to discuss options and qualifications and to develop a payment plan that works for you. Programs with alternative application procedures.
2020-21 Starting Dates
Online
June 2nd, 2020
July 14th, 2020
August 18th, 2020
September 22nd, 2020
October 27th, 2020
December 1st, 2020
January 12th, 2021
February 16th, 2021
March 23rd, 2021
April 27th, 2021
June 1st, 2021
Last updated Nov 2020
About the School
South University provides a warm, supportive learning environment that will encourage you to engage with a community of faculty, staff, and students eager to play a role in helping you achieve your ed ... Read More
South University provides a warm, supportive learning environment that will encourage you to engage with a community of faculty, staff, and students eager to play a role in helping you achieve your educational goals, on-campus and online. We take pride in the South experience of small classes that offer a hands-on experience that will be important to help shape your skills and excellence in your chosen field, but also help shape your character through community involvement, volunteerism, and pursuit of life-long learning.
Read less
Savannah ,
Tampa ,
West Palm Beach ,
Montgomery ,
Columbia ,
Orlando ,
Virginia Beach ,
Richmond ,
Austin ,
Savannah ,
High Point
+ 10 More
Less