Bachelor of Science in Business Administration
Home ›
BSc ›
Bachelor of Science in Business Administration
Program Description
Bachelor of Science in Business Administration – 126 credits
Students graduating from the Bachelor in Business Administration program have the opportunity of finding a broad and varied labor field, from ministers to professionals and from local agencies in process of formation to international organizations. This program focuses on building important business skills while integrating a business worldview.
Curriculum
General Education Courses: 30 Credits
BI1101 Introduction to Study of the Bible
CH3013 Communication and Human Development
CM2101 Composition I
ED1109 Study Methods & Techniques
MA4405 Introduction to Statistics
PS1304 General Psychology
PS4101 Introduction to Social Psychology
SC2102 Philosophical Thinking
SC3204 Biological Science
TH3406 Anthropology
Core Curriculum Courses: 54 Credits
AD1415 Introduction to Business
AD1501 Administration Theory
AD1507 Non-Profit Administration
AD2210 Marketing I
AD3304 Marketing II
AD3305 Principles of Supervision
AD3307 People Management
AD3308 Introduction to Human Resources
AD3309 Organizational Behavior
AD3310 Service Marketing
AD4402 Stress Management
AD4511 Volunteer Resources
AD4512 Advertising Fundamentals
CH4024 Persuasion, Motivation & Influence in the Workplace
CH4025 Coaching at Work
CM3105 Verbal Expressions
EC4320 Economy Theory
EC4520 Globalization
Minor in Business Administration – 24 credits
AC3301 Computer Accounting
AD2505 E-Business
AD3403 Business Law
AD3503 Organizational Management
AD4513 Integrative Team Building
EC4101 Introduction to Economics
MA4103 Business Mathematics
SC2202 Study of the Man and His Culture
Minor in Automotive Management – 24 credits
AD2304 Introduction to Dealership Business
AD2307 Dealership Operational Management
AD2309 Automotive Digital Marketing and Technology
AD3028 Dealership Business New Model
AD3031 Automotive Commercial Relationship
AD3047 Automotive Sales Concepts and Applications
AM0001 Management School Automotive I
AM0002 Management School Automotive II
Electives (6) – 18 Credits
Objectives
The student completing a Bachelor Degree in Business Administration will:
Be equipped for employment in a position in the business field.
Be able to formulate and implement an effective marketing plan.
Be able to use financial statements in managerial operations.
Be able to use modern informational systems in business.
Be able to correctly use composition skills, grammar, and punctuation.
Be able to integrate philosophical, literary and historical knowledge into a Biblical worldview.
Entrance Requirements
High School Diploma or GED.
Enrollment Agreement filled and signed. If a student is under 18 years of age, a parent or guardian must sign the Enrollment Agreement.
Diplomas of previous studies.
Official Transcripts of previous studies.
Copy of official identification.
Debit Authorization (if desired).
A passport-type photo.
Pastoral Ordination if it were the case.
Ministerial curriculum, copies of any certificate of courses took in related areas, and Ministry ordination, if they are older than 30 years and want to claim the credits for Life Experience.
Steps to Enroll
Application: Complete the Enrollment Agreement sent by e-mail by the Student Services Department of FCU, sign and scan the document.
Documents: Send the Enrollment Agreement to info@floridachristianuniversity.edu attached with all the documents necessary or send them by mail.
Evaluation: After receiving the Enrollment Agreement and the copies of the requested documents, verification will be made by the corresponding departments. FCU will contact the students if additional documents are required. Transcripts must be official and sent directly from the university in a sealed envelope.
Payment: If the student completes the Agreement and submits all required information, the next step is to pay the $260 Application and Enrollment fee, which is applicable to any program. (Application $40 & Registration & Processing Fee $110.00 – are not refundable + USD $110.00 Evaluation – refundable).
Enrollment: Should the student's Agreement require additional analysis by the Institution, the student will be informed immediately. After being approved, the student will be effectively enrolled and will receive a welcome letter, the Catalog, and the Student Handbook. After that, the online student will receive an e-mail with information on how to access the Student's Portal and the template to be used their assignments. On-campus students will receive their class schedule. The Student ID Card will be sent by mail. Now the student is ready to begin their classes!
Mode of Study
Three-Course Delivery Methods: Face-to-Face/Synchronous/Fully Online (Student's Portal).
4th Method for those who live near the headquarters or a branch of FCU: Hybrid.
Classes start immediately after enrollment, on an ongoing basis. For online courses, students take a minimum of (1) one online course a month. For on-campus courses, invitations are sent out and students confirm their presence a minimum of (2) two weeks prior to the course date.
Last updated Feb 2020
About the School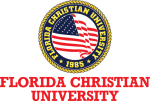 Founded on August 29th of 1985, FCU always had the mission of providing Higher Education in a practical and accessible way, to professionals and ministers, preparing them to accomplish their callings ... Read More
Founded on August 29th of 1985, FCU always had the mission of providing Higher Education in a practical and accessible way, to professionals and ministers, preparing them to accomplish their callings with Christian foundations. The University promotes global outreach distance learning education programs through video, independent study, and online classes with qualified faculty and use of state- of- the- art technological infrastructure.
Read less