Bachelor of Business Administration, International Business Online
Home ›
BBA ›
Bachelor of Business Administration, International Business Online
Read more about this program on the institution's website
Program Description
Do you want to study for a BBA degree completely online? Apply to International Business Online at Turku University of Applied Sciences!
Would you like to be a marketing manager of a fast growing IT company in Finland, a business strategy consultant in EU, an international sales manager in Singapore, a human resource manager in Berlin, or start up your own business? These are examples of some of the positions our online international business programme may open for you upon your graduation.
The BBA in International Business Online programme at Turku University of Applied Sciences provides a new and interactive way of acquiring a BBA degree online. Together we develop knowledge and skills through interactive online sessions, challenging projects linked with business life, authentic cases and work-life oriented methods, guided by experienced online teaching staff.
The pedagogical framework of the BBA in International Business Online programme is based on a framework which creates a balanced implementation of pedagogy, technology and content. All teachers in the programme are trained in online pedagogy, thus providing the best possible guidance in a fully online environment. The International Business Online programme will utilize the technical tools provided and supported by the university.
Within our International Business Online degree programme, you will develop the practical skills for your future career. Our online programme provides you with the knowledge and competencies required to undertake responsibilities in an international business environment. With the help of our international teaching staff and their expertise from various different industries and business areas, you will have the possibility to deepen your knowledge in several areas of international business, such as management, marketing, logistics and others based on your own interests.
For more peer support and additional information, check out our IB Facebook page and our new marketing campaign.
What is BBA in International Business Degree Online?
International Business Online programme at Turku University of Applied Sciences offers you a flexible way of acquiring a BBA degree fully online. This gives you the perfect opportunity to combine your studies with your life needs.
Gain the knowledge and competencies required to work in an international environment. Our International Business Online degree focuses on digital business and marketing, giving you new opportunities to create a career in international markets.
During your studies, you will work independently and in small study teams guided by experienced online teaching staff. You will also work on authentic company projects whilst enhancing your own competences. You are able to utilize your current competences and combine your work responsibilities to your studies.
Create a career online in international digital business!
Why take an online degree?
Access the globally recognized Finnish education by living anywhere in the world
Study with the unique methods of Innovation Pedagogy developed at TUAS
Combine your degree studies to work, travel or family, without changing your lifestyle
Expand your digital work competencies using digital tools as part of your studies
Connect online with students from all over the world in an authentic international environment
How will you study online?
Studies create a balance between independent and collaborative study
Collaborative study enables you to learn, discuss and create together with a small study team
Independent courses offer a chance to focus on studies of your at your own time and pace
Regular online meetings ensure you receive feedback and guidance from lecturer
A weekly one-hour online meeting reinforces learning objectives, enhances motivation and progress in your studies
All online meetings scheduled after 3 pm (Finnish time) to facilitate combining work and studies
Interesting up-to-date online materials to gain knowledge on our online learning platform
Teachers trained in online pedagogy to provide full support throughout your studies
Full access to all technical tools, and online study resources provided and supported by TUAS and IB Online.
What will you study?
Basic studies provide fundamental foundation, knowledge and skills for studying and working in the business field
Professional studies focus on digital business, digital marketing, brand management, international marketing, Business English communication and international business
Elective courses are customized to gain deeper knowledge based on your personal study plan
Practical training provides you with opportunities to apply theoretical knowledge in an authentic work environment and within an area of your interest. Practical training can be completed in your own country or abroad, online or onsite.
Optional studies provide you with additional possibilities to widen your opportunities and expertise through a wide selection of online courses
Bachelor thesis deepens your knowledge within a specialization of your interest. Thesis work can be combined with practical training and completed as a company project
Entrance examination
Applicants who apply with a Finnish qualification certificate are selected based on the entrance examination.
Applicants who apply with a non-Finnish qualification certificate are selected only based on the SAT test results.
All eligible applicants will be invited to the entrance exam.
The entrance exam for the programme consists of four parts: Essay, Multiple-choice Questions, Mathematics / Logic and Group Discussion. The essay and the multiple-choice questions of the exam are based on the pre-reading material. The material will not be available at the exam.
There is also an obligatory English language test which is evaluated on the scale pass/fail. The maximum points for the exam are 40 points. The applicants must score a minimum of 10 points to pass the exam. All parts of the exam have to be passed in order to be admitted. The applicant who fails the language test cannot be admitted.
Key Facts
Degree programme: International Business Online
Type of education: Bachelor's degree
Degree title: Bachelor of Business Administration (BBA)
Duration and workload: 210 ECTS credits / 3.5 years
Campus address: Lemminkäisenkatu campus (Lemminkäisenkatu 30, Turku)
Study location: Online
Next application period: January 2020
Studies begin: Autumn 2020
Joint Application 2020
Online application form must be filled during the application period at www.studyinfo.fi.
Detailed instructions on applying and for example admission criteria will be published at www.studyinfo.fi. The studies will start in autumn 2019.
Degree programmes offered in the spring 2019 application period 1 (To be updated ):
Bachelor of Business Administration, International Business Online
Tuition Fees and Scholarship programme in TUAS
The tuition fee is 9000 EUR per academic year for non-EU/EEA students who start their studies in Bachelor's or Master's degree programmes offered in English on 1 August 2017 or after that. Tuition fee does not include accommodation or other living or study related costs.
Scholarship programme in TUAS
By completing 55 ECTS credits per year, the student will be refunded a third of the fee.
Please check more detailed information with the title "Am I required to pay the tuition fees" at studyinfo.fi.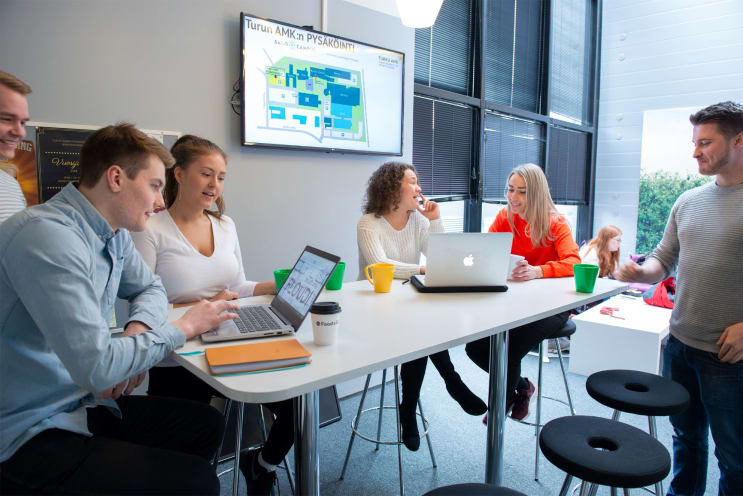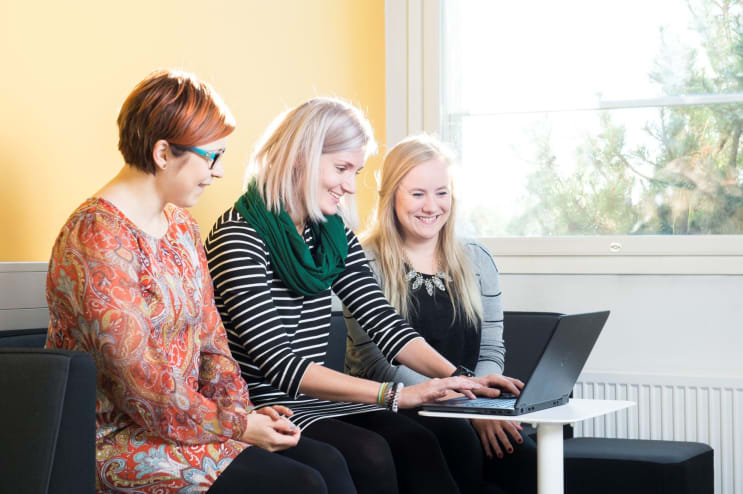 Last updated Oct 2020
About the School
Turku University of Applied Sciences (TUAS), one of the leading universities of applied sciences in Finland, hosts 9,500 students studying for a Bachelor's or Master's
Turku University of Applied Sciences (TUAS), one of the leading universities of applied sciences in Finland, hosts 9,500 students studying for a Bachelor's or Master's
Read less