Program Description
History at UNA is dynamic, creative, and focused on experiences that will develop critical thinking skills, communication skills, and prepare graduates for exciting careers. Award-winning faculty and exciting programs provide opportunities for study abroad, internships, and exciting cultural experiences both on and off-campus!
Mission Statement
The Department of History at the University of North Alabama is committed to teaching, research and scholarly excellence, and to providing service to the university and to the community. The department provides a foundation of historical knowledge and develops critical thinking, reading, research, and writing skills in its majors. We affirm a commitment to diversity and to fostering an inclusive community characterized by respect for all, regardless of age, gender, ethnicity, disability, social class, religion, culture, sexual orientations, or language.
Online Program
The Department of History offers an online Bachelor of Arts (B.A.) or Bachelor of Science (B.S.) degree in History. The online B.A. or B.S. degree can be completed in four years. The online program allows students to create their schedules without having to worry about commuting to campus. The program offers students a wide range of courses with highly qualified faculty and small classes that allow faculty the time to give more individual attention to their students.
Requirements
Requirements
Credit hours
General Education Component
41
A foreign language at the introductory level
6
History Core Requirements
36
World Civilization (HI 101 and HI 102)
6
United States History (HI 201 and HI 202)
6
History & Historical Research (HI 301W)
3
History Electives (300-400 level) in United States History
6
History Electives (300-400 level) in non-United States History
6
Additional History Electives (300-400 level)
9
Senior Thesis (HI 495)
0
A minor or second major is required for this degree.
Minors typically require 18 to 24 hours. Hours required for majors vary.

(18-24)
General electives, if required, to bring the total credit hours to 120
(13-19)
Total hours required for graduation
120
All majors must complete the Praxis II as a required exit exam.
-
Frequently Asked Questions
1. What can I do with a history degree?
Students with history degrees can go on to work in the following areas: advertising executive, analyst, archivist, broadcaster, campaign worker, consultant, congressional aide, editor, foreign service officer, foundation staffer, information specialist, intelligence agent, journalist, legal assistant, lobbyist, personnel manager, public relations staffer, researcher, or teacher. The possibilities are endless!
2. Do diplomas distinguish between online and traditional degrees?
No. Currently, the diplomas do not distinguish between a diploma earned online and a diploma earned from traditional classroom attendance.
3. Are there resources available for students to use so that they can familiarize themselves with the technology UNA uses?
Yes. Many students who take online courses are new to Angel and our technology. The courses are designed to be easy for everyone to use and adapt to. You can contact Information Technology Services or the faculty member teaching the course with any questions that you may have. For more information, including more Frequently Asked Questions, you may visit the Information Technology Services website.
4. How do you apply?
All information about applications, student resources, student life, how to get involved, and orientation dates are available on the Admissions website.
5. Do we need to come to campus for thesis advising or defense?
No. The online program is completely web-based.
6. Can we do public history concentration in the online program?
No. Currently, the Public History concentration is offered only on campus in the traditional classroom setting.
7. I don't want to be isolated in the online program. Is there an opportunity to socialize and participate in academic activities with other graduate students?
Yes. The History Graduate Student Association (HGSA) holds an annual colloquium to present research papers and they publish an academic journal, North Alabama Historical Review, once a year. You are more than welcome to participate in those events and contribute your papers.
Last updated Aug 2020
About the School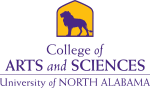 The College of Science, Technology, Engineering, Arts and Mathematics, 19 different departments with an array of majors, minors and certificate programs working independently and together to ignite th ... Read More
The College of Science, Technology, Engineering, Arts and Mathematics, 19 different departments with an array of majors, minors and certificate programs working independently and together to ignite the dream that creates the steam that powers your future. Join us and get ahead!
Read less