Bachelor of Arts Completion in Psychology
Home ›
BA ›
Bachelor of Arts Completion in Psychology
Program Description
Bachelor of Arts Completion in Psychology
Why Sofia?
40 years of excellence in transpersonal education for the whole person - mind, body, and spirit
Complete your degree online from anywhere in the world, on a flexible schedule, in one to two years
Designed for busy people who have some prior education and life experience
Personal, active online learning with experienced and committed faculty
Student-centered, inquiry-based, co-creation of knowledge at the heart of our learning environments
Sofia's BA in Psychology Program Offers:
Specifically designed programs for students interested in careers in psychotherapy, counseling, and other professions involving the practical application of psychological knowledge.
Cutting-edge courses in specialized topics rarely taught at the undergraduate level, such as Transpersonal Psychology, Somatic Psychology, Neuropsychology, Autism, and Ecopsychology.
Opportunities to do focused work toward a life-changing Capstone Project with personal guidance from faculty
Academic credit for life experience available through CAEL (Council for Adult and Experiential Learning)
A well-rounded approach emphasizing multicultural and interdisciplinary thinking.
Why Get a BA Degree?
In 2018 nearly two-thirds of all job openings will require a B.A. vs one-third in 2008
Workers with a B.A. earn approximately $20,000 more per year than workers without a degree
Workers with a B.A. are almost twice as likely to be employed than those without
Our BA in Psychology Prepares You To:
Continue to graduate education
Work immediately in fields such as case management in social services /community-based service, family counseling, human resources/employment counseling, public relations, marketing, and more.
Work effectively in a collaborative, diverse, and interdisciplinary environment.
Work on the leading edge of the field of Psychology
Transfer to Sofia
Must transfer in at least 60 hours. Up to 45 credit hours can be achieved by CAEL
3 - 5-page essay
2 letters of academic recommendations
All official transcripts from any previously attended institution
TOEFL exam (International Students only)
We have a full-service financial aid department here to help you. The BAC program enrolls new students every term.
Last updated Feb 2020
About the School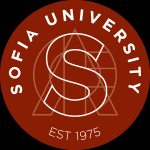 Sofia University has built itself on a foundation of transformative, transpersonal education since 1975.
Sofia University has built itself on a foundation of transformative, transpersonal education since 1975.
Read less