Bachelor in Early Childhood Education
Home ›
Bachelor in Early Childhood Education
Program Description
For those who want to make a positive impact in the lives of young children, an online bachelor's degree in early childhood education from Concordia can be the next step in your professional journey
From birth through age five, children acquire the basic skills that prepare them for success in school.
Our program can be customized to fit a busy schedule, with full- or part-time roadmaps toward graduation. The online learning environment is collaborative and students have a built-in support system of like-minded students and caring professors.
And, if you're already working in early childhood education or you have college credits, our transfer coordinators will help find ways to maximize your existing credit, which means you'll get your bachelor's degree as quickly as possible!
The U.S. Bureau of Labor Statistics projects a 10% growth rate for preschool teachers through 2026, thanks to a continued focus on the importance of early childhood education.
Program Overview
Your degree, your way
Bachelor of Arts
Our Bachelor of Arts degree is intended for students coming directly from high school or community college with little or no direct teaching experience.
Bachelor of Science
Our Bachelor of Science degree is designed for non-traditional students with a significant amount of relevant work experience and at least one year of college-level credits.
To determine which option is right for you, please speak to a Concordia Admission Counselor.
Course Highlights
During a typical day, you tie shoes, you give hugs, you listen to stories, you inspire — and you teach. The work of an early childhood educator lays the foundation for lifelong success — that's a big responsibility. Our responsibility is to provide you with the strategies and tools to help your students take flight.
Flexible program options
Online classes (12 classes over four semesters, plus internship) mean you can continue to work while pursuing your degree.
Become a teacher
Our program builds on your previous work towards an associate's degree in early childhood or child development.
A variety of career tracks
Courses are taught by child development experts, with a focus on preschool and primary age levels.
​Practice your skills​
Your final semester is an internship that lets you use your new knowledge and skills in a preschool or childcare setting.
Create a career path
Lead Your Class
Federal laws require that 50 percent of teachers in Head Start schools have a bachelor's degree.
Grow Your Career
Once you earn your bachelor's in ECE, you can continue on with an 11-month Master of Arts in Teaching degree (MAT) in order to get your preliminary teaching license.
Professional Opportunities
What can you do with an ECE degree?
Become a:
Head Start teacher
Preschool teacher
Director of early childhood education program
Early childhood education trainer
Family support specialist
Teaching assistant
Why Concordia University-Portland?
Concordia has been preparing teachers for more than 110 years. The knowledge and tools you receive here can be used immediately to positively affect your students, your class, and your entire community. Concordia professors are well-respected, highly-experienced classroom teachers and administrators, and you'll be able to network with and learn from classmates who are educators across the country and the world.
Our program is designed for students with passion and experience in early childhood education, and the flexible 100 percent online schedule makes it possible to continue working as you complete the program. And our transfer coordinators ready to work with you to apply your existing college credit to our requirements — meaning you may be able to complete your degree in as few as 16 months. The ECE major consists of 12 online classes (every 7.5 weeks in length) and a one-semester internship.
Scholarship Availability
Academic scholarships are awarded to eligible first-year BA or BSN students who are accepted to the University. Award amounts are based on cumulative high school grade point averages and college placement test scores (SAT or ACT) and are awarded regardless of need. These scholarships are renewable all four years, based on maintaining a certain GPA.
Admission Requirements
Experience working with young children.
Admission Steps: Application, official college transcripts, background disclaimer, résumé, and letter of recommendation.
Applicants must have at least 12-semester credits or 18 quarter credits complete, preferably including a 100-level math course and WR 121. First-time freshmen are not eligible for this program.
Last updated Dec 2019
About the School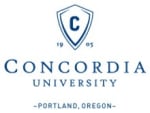 If education is your passion, this is your university. One of the most respected names in learning today, Concordia University–Portland is reshaping the way the world views teachers and students. We o ... Read More
If education is your passion, this is your university. One of the most respected names in learning today, Concordia University–Portland is reshaping the way the world views teachers and students. We offer education degree programs at every level – many of which can be earned online – from a Bachelor in Education to master and doctorate degree programs.
Read less