Bachelor Degree in Hellenic Culture
Home ›
Bachelor Degree in Hellenic Culture
Program Description
The degree program STUDIES IN GREEK CULTURE offers Kaleidoscopic introduction to the historical phenomenon called Hellenic Civilization From antiquity to today, its transformations and transitions, its contradictions and complexity, its brilliant and less brilliant moments. Through this critique of perception, the cultural processes are related to the historical and social components.
The broader objective of the Program is to equip its students with Cognitive, methodological and epistemological skills Such as to allow them to deepen cultural phenomena in general, to realize the ideological and political, racing and agonizing nature of the historical formulation called culture, cultural and national identity. Emphasis is given to the study of the primary sources (texts and objects), with the purpose Critical sensor design and the development of research skills.
Graduates of the Program can work in a range of professions, including those related to the field of culture (cultural services and organizations, museums, tourism professions, arts and entertainment arts, and so on) , Education and public administration. In addition, students who choose and complete the Thematic Units Ancient Greek I & II and Latin I & II, assemble The necessary formal qualifications required by the Cyprus Educational Service Committee for their inclusion in the lists of candidates for Cypriot Secondary Education.
Structure of the Program
To obtain a degree is required the successful attendance and examination at At least twenty (20) Thematic Modules (TH). The program offers Three (3) directions: Philology, History - Archeology - Art and General. The student can choose Up to three (3) Trunk and up to two (2) Selection per semester. The attendance, as for all university curricula, starts in the winter semester from mid-September and ends in January and for the spring semester from the end of January to the end of May. The web pages describe the Thematic Modules on which the degree program "Studies in Greek Culture" is structured. It should be noted that the monitoring of the thematic units offered in the first and second year of study is compulsory For this degree program.
Mandatory Topics
(Maximum number of options per semester: 3 students)
1st semester
ENG 111 Introduction to the Study of Culture (Theory and Practice)
ELL 112 Ancient Greek History (1200 BC - 330 AD)
ELL 113 Ancient Greek Art (1200 BC - 330 AD)
2nd semester
ELL 121 Byzantine History (330 - 1453 AD)
ELL 122 Byzantine Art (330 - 1453 AD)
ΕΛΛΗ 123 Modern Greek History I (1770 - 1909)
3rd semester
ELL 211 Ancient Greek Literature (Archaic - Classical Period)
ELL 212 Modern Greek History II (1909 - 1949)
ELL 213 Modern Greek Literature I (16th - 19th century)
4th semester
ELL 221 Ancient Greek Philosophy (Plato-Aristotle)
ELL 222 Hellenistic and Early Byzantine Literature (3rd century BC - 7th century AD)
ELL 223 Modern Greek Literature II (20th century)
Direction: Philology

(Maximum number of options in each academic semester: 2 weeks)
5th semester
HELLENIC REPUBLIC 311 Ancient Greek I.
ΕΛΛ 312 Latin Ι
ELL 313 Modern Greek Literature Issues (20th Century)
6th semester
ELL 321 Ancient Greek II
ELL 322 Latin II
ELL 323 Topics of Ancient Greek and Byzantine Philosophy
7th semester
ELL 411 Ancient Greek Theater I (Tragedy)
ELL 412 Byzantine Literature (7th - 15th century)
ELL 413 Ancient Greek Literature
8th semester
ELL 421 Ancient Greek Theater II (Comedy)
ELL 422 Literature of Cyprus (12th - 20th century)
ΕΛΛ 423 Linguistics
Direction: History - Archeology - Art

(Maximum number of options in each academic semester: 2 weeks)
5th semester
ELL 314 Themes of Ancient Greek Art
ELL 315 Topics in Roman History
HEL 316 Introduction to Epigraphy and Monetary
6th semester
ELL 324 History of Late Antiquity
ELL 325 History of Ancient and Medieval Cyprus
ELL 326 Issues of Economic and Social History of Modern Hellenism
7th semester
ELL 414 Contemporary Cypriot History (1878 - 1974)
ELL 415 Modern Greek Art: Sculpture and Painting
ELL 416 Sciences in Ancient Greece and Byzantium
8th semester
ELL 424 Archaeological Theory and Practice
ELL 425 Art and Theater in Modern Greece and Cyprus
ELL 426 Byzantine Art Issues
Direction: General
It combines themes from the two above-mentioned directions of Philology and History-Archeology-Art
Admission Requirements
To enter the degree program candidates should possess the following:
High school diploma or equivalent
Good knowledge of a foreign language (English, French, Italian or German).
Good PC usage
The student must take into account that good foreign language knowledge is necessary to meet his / her obligations.
Applications
A new application period for the academic year 2017-2018 starts on 6 July and ends on 5 September 2017 at 11:00 am. . Applications can only be submitted electronically, via the APIKY website, to the following link: Https://applications.ouc.ac.cy/admissions?sap-language=EL
Last updated Aug 2017
About the School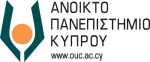 As the second public University, established in 2002, the Open University Cyprus (OUC) aims to fill an important gap in the Cypriot higher education system, offering accredited distance learning degre ... Read More
As the second public University, established in 2002, the Open University Cyprus (OUC) aims to fill an important gap in the Cypriot higher education system, offering accredited distance learning degrees at all levels (undergraduate, master and doctoral). Building on its origins as the country's only University dedicated to distance education, OUC is growing quickly in academic stature and overall reputation. Today's challenging realities have widened OUC's horizons, helping to bring Cyprus near towards its strategic goal: to be established as a regional educational and research center and hub for international scholars and students alike in the Eastern Mediterranean basin.
Read less