BA (Hons) Photography (Distance Learning)
Home ›
BA ›
BA (Hons) Photography (Distance Learning)
Program Description
Study a Photography degree with OCA
Our BA (Hons) Photography degree is a fantastic option for anyone with an interest in developing and applying their creative and technical skills to a range of projects that critically explore the role of photography.
As an open-access flexible degree, the course can be studied anywhere in the world, at a time and pace to suit you. You'll be joining a creative community of students who support each other, coming together to share their unique ideas and work.
Throughout your studies, you'll be provided with one-to-one tutor support and feedback, guiding you through the course materials to maximise your creative potential. Our tutors share a wealth of experience from across the photographic, creative and cultural sectors. Their combined skills and experience reflect the exciting range of possibilities and pathways which the study of photography can lead to.
A degree in photography with the OCA will support you in the development of your creative practice, research and critical thinking. These skills will enable you to question the value of the image in digital culture, producing work that is inspiring, engaging and meaningful.
So pick up that camera, whether it be new or old, and begin your photographic journey today.
Course Structure
The degree is split into eight units; three at Level 1 (HE4), two at Level 2 (HE5), and three at Level 3 (HE6). There are some core units that all students take, many more optional units, and some prerequisites for units at higher levels.
As a flexible degree, you can complete the programme in four to nine years, with a maximum of three years to complete each level of the course.
Core Units
Level 1 begins with two core units, Photography 1: Expressing your Vision, and Photography 1: Context and Narrative. Photography is a visual language – like any form of communication, it is important to understand the structure and vocabulary in order to express yourself and communicate effectively.
The Photography 1: Expressing your Vision unit will help you to understand the importance of your decision making when taking photographs and how this can have an effect on the range of meanings that your photograph can communicate.
The Photography 1: Context and Narrative unit builds upon the visual skills acquired in Expressing your Vision. It aims to help you to create meaningful photographs by looking at the use of photography across different genres and contexts.
Throughout Level 1 and on to Level 2, there are a few Optional Modules to choose from, which are defined below.
At Level 3, you'll study a flexible negotiated programme which consists of three core units. Here you apply your research within Photography 3: Contextual Studies, and use it to inform the development of a photographic investigation in Photography 3: Body of Work, before finally presenting your work to the public within Photography 3: Sustaining Your Practice.
Optional Units
Following the completion of the two core units at Level 1, you have the option to either choose to study Photography further or to choose a complementary discipline from the areas of Creative Writing, Fine Art, Moving Image and Visual Communications:
Photography 1: Identity and Place
Moving Image 1: Setting the Scene
Moving Image 1: An Introduction to Film Culture
Visual Studies 1: Understanding of Visual Culture
Book Design 1: Creative Book Design
Visual Studies 1: Creative Arts Today
Writing 1: Writing Skills
Graphic Design 1: Core Concepts
Visual Skills 1: Visual Dynamics
Printmaking 1: Introduction to Printmaking
There is also the opportunity, should you have chosen to study it at Level 1, to study Moving Image with the Moving Image 2: Moving Image Methodologies unit.
At Level 2 you have the choice of two elective units from the list of units below:
Photography 2: Landscape, Place and Environment
Photography 2: Documentary – Fact and Fiction
Photography 2: Self and the Other
Photography 2: Digital Image and Culture
Fees
UK 2019/20 Fees
Foundations: £900 Per course
Level 1 (HE4): £4,050 For the level
Level 2 (HE5): £3,340 For the level
Level 3 (HE6): £3,340 For the level
Outside of the UK 2019/20 Fees
Foundations: £1,050 Per course
Level 1 (HE4): £4,500 For the level
Level 2 (HE5): £3,690 For the level
Level 3 (HE6): £3,690 For the level
Fees, Funding & Other Costs
OCA degrees are paid for on a unit-by-unit basis and are around a third of the cost of a degree at a campus university. Unit costs depend on the level of the unit, and also whether you live in the UK or the rest of the world.
If you started studying with OCA before 01 August 2017, please contact accounts@oca.ac.uk as different fees may apply.
If you are funding your course yourself you can either pay for units in full or you can spread the cost by taking advantage of our deposit and instalment facility for which a £50 fee is included in the deposit you pay.
All OCA courses are listed with Student Finance England, Wales, and Northern Ireland allowing eligible students to apply for a Student Loan to cover the cost of fees. You may also be able to apply for a maintenance loan and/or Disabled Students Allowance to assist you with the cost of study.
We've made this helpful guide to take you through the application process, making applying for Student Finance simple and straightforward.
The OCA Learner Support Scheme can provide partial bursaries towards course fees for students who are not eligible for funding via Student Finance, based on financial hardship.
Other sources of funding may include employer contributions, Enhanced Learning Credits (for Armed Forces Serving Personnel and Service Leavers) and Prisoner Education Trust.
As a student with OCA, most reading materials can be accessed through the digital library services and eBooks, or sent to you in the post.
Other costs you may find on your degree include purchasing materials/books/texts to assist in your practice and research. Approximate additional materials/resources costs for Photography are £250 for Level 1, £500 for Level 2 and £400 for Level 3. Work is largely submitted to tutors and for assessment via email, however, postal costs are expected to be around £40 per assessment for sending materials depending on the quantity and weight of materials. Rates for overseas students will be higher.
Entry Requirements
Photography is an open access degree; this means that there are no formal qualifications or experience required to join the course. All you need is a passion for the arts and a willingness to learn.
All OCA courses require students to be IT literate, have a good internet connection, and have a good standard of English equivalent to CEFR B2.
Careers & Employability
Upon completing the BA (Hons) Photography degree, you'll be set with skills to help you navigate the workplace.
While you're enhancing your photography profession, you can find a range of options to support your work. You could use your creative and research skills to work in visual communications, marketing, and many more roles.
In 2017 the Department for Culture, Media, & Sport estimated there were some 3.12 million jobs in the UK creative economy, and 80,000 new jobs were created in 2017 alone. The creative industries are growing faster than any other sector in the UK.
Last updated Mar 2020
About the School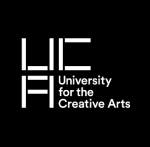 Oscar-winning filmmakers, world-renowned fashion designers, television presenters, celebrity jewellers and Turner Prize nominees are just some of the high-profile graduates from the University for the ... Read More
Oscar-winning filmmakers, world-renowned fashion designers, television presenters, celebrity jewellers and Turner Prize nominees are just some of the high-profile graduates from the University for the Creative Arts. As a specialist creative arts university, we have created a unique community for our students, where like-minded people can share in the creative process and inspire one another. Collaboration between courses is encouraged, with fine artists studying with budding filmmakers and fashion designers working alongside architects. In this way, our students benefit from exposure to a range of disciplines. Choosing to study with us will give you the freedom to discover your own personal style through a winning combination of industry-focused courses, state-of-the-art facilities, and inspirational expert staff.
Read less