BA (Hons) Graphic Design (Distance Learning)
Home ›
BA ›
BA (Hons) Graphic Design (Distance Learning)
Program Description
Study a Graphic Design degree with OCA
Do you find yourself appreciating typography, product packaging, magazine layout or book design? Do you find yourself thinking about the latest brand or curious to witness the impact of what an original design could make?
Our BA (Hons) Graphic Design degree offers you the opportunity to enhance your creative potential through exploratory design initiatives, be it paper, web, digital, animation or print. You'll determine your own preferred specialism within the wide range of graphic design practice.
The degree will examine the combination and significance of font style, image-making and layout which are the building blocks of graphic design. You'll explore these through an investigation of visual language, context and dynamics, broadening your understanding, proficiency and expertise.
You will learn to apply problem-solving methods to deliver visually powerful solutions to briefs that effectively communicate information and ideas. You'll be encouraged to expand your definition of graphic design through brainstorming, researching contemporary practices and techniques in print and new media, and defining and refining your unique house style.
You'll be challenged and encouraged to expand your definition of graphic design both on and offline. Throughout your course of study, your specialist tutor will support you and your work, enabling you to work independently, ready for the world of visual creativity.
Course Structure
The Graphic Design degree is split into eight units; three at Level 1 (HE4), two at Level 2 (HE5), and three at Level 3 (HE6). There are some core units that all students take, many optional units, and some prerequisites for units at higher levels.
As a flexible degree, you can complete the programme in 4–9 years, with a maximum of three years to complete each level of the course.
Core Units
At Level 1 (HE4) you will complete one mandatory unit, Graphic Design 1: Core Concepts. This unit introduces the use of basic visual language and the application of practices and processes of graphic design. You'll have the opportunity to develop practical competencies, explore your creative potential, and appreciate how to communicate effectively.
Study at Level 2 (HE5) is underpinned by two core units: one specialist unit in graphic design, Graphic Design 2: Working with a Client, and one diverse unit, Visual Skills 2: Visual Exploration. The second unit contains graphic design options that support a process-led approach to generating ideas and developing visual and technical skills across a choice of media and technologies.
A shared structure of course units at Level 3 (HE6) provides a framework for you to contextualise your practice, develop a specialist understanding of graphic design, synthesise critical ideas and visual work through a body of written and visual research (Graphic Design 3: Visual Research), and undertake a self-directed major project (Graphic Design 3: Advanced Practice) culminating in an exhibition and/or publication (Graphic Design 3: Sustaining your Practice).
Optional Units
Alongside the core unit at Level 1 (HE4), you can choose to study either Book Design 1: Creative Book Design, a course unit exploring editorial layout and design and/or Visual Skills 1: Visual Dynamics, a course unit that provides a practical framework to explore and develop your creative processes.
If you choose to study only one of these units, you can go on to take a third elective course unit, choosing from a range of disciplines including:
Visual Communication 1: Graphic Fiction
Illustration 1: Key Steps in Illustration
Illustration 1: Illustration Sketchbooks
Photography 1: Expressing your Vision
Visual Studies 1: Creative Arts Today
Fees
UK 2019/20 Fees
Foundations: £900 Per course
Level 1 (HE4): £4,050 For the level
Level 2 (HE5): £3,340 For the level
Level 3 (HE6): £3,340 For the level
Outside of the UK 2019/20 Fees
Foundations: £1,050 Per course
Level 1 (HE4): £4,500 For the level
Level 2 (HE5): £3,690 For the level
Level 3 (HE6): £3,690 For the level
Fees, Funding & Other Costs
OCA degrees are paid for on a unit-by-unit basis and are around a third of the cost of a degree at a campus university. Unit costs depend on the level of the unit, and also whether you live in the UK or the rest of the world.
If you started studying with OCA before 01 August 2017, please contact accounts@oca.ac.uk as different fees may apply.
If you are funding your course yourself, you can either pay for units in full or you can spread the cost by taking advantage of our deposit and instalment facility for which a £50 fee is included in the deposit you pay.
All OCA courses are listed with Student Finance England, Wales, and Northern Ireland allowing eligible students to apply for a Student Loan to cover the cost of fees. You may also be able to apply for a maintenance loan and/or Disabled Students Allowance to assist you with the cost of study.
We've made this helpful guide to take you through the application process, making applying for Student Finance simple and straightforward.
The OCA Learner Support Scheme can provide partial bursaries towards course fees for students who are not eligible for funding via Student Finance, based on financial hardship.
Other sources of funding may include employer contributions, Enhanced Learning Credits (for Armed Forces Serving Personnel and Service Leavers) and Prisoner Education Trust.
As a student with OCA, most reading materials can be accessed through the digital library services and eBooks, or sent to you in the post.
Given the nature of the discipline, digital hardware and appropriate software may also be required. The investment in computer equipment and lens-based media will be spread across the course as a whole. The cost of specialist software using Adobe Creative Cloud can be calculated at approximately £16 per month or £160 per annum (including student discount). Work is largely submitted to tutors and for assessment via email, however, postal costs are expected to be around £40 per assessment for sending materials depending on the quantity and weight of materials. Rates for overseas students will be higher.
Entry Requirements
Graphic Design is an open access degree; this means that there are no formal qualifications or experience required to join the course. All you need is a passion for the arts, and a willingness to learn.
All OCA courses require students to be IT literate, have a good internet connection, and have a good standard of English equivalent to CEFR B2.
Careers & Employability
Upon completing the BA (Hons) Graphic Design degree, you'll be set with skills to help you navigate the workplace. You could use your practice across a variety of professions such as a graphic designer, illustrator, web designer, print designer, wireframer, marketeer – the choice is yours.
In 2017 the Department for Culture, Media, & Sport estimated there were some 3.12 million jobs in the UK creative economy, and 80,000 new jobs were created in 2017 alone. The creative industries are growing faster than any other sector in the UK.
Last updated Mar 2020
About the School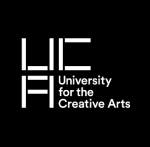 Oscar-winning filmmakers, world-renowned fashion designers, television presenters, celebrity jewellers and Turner Prize nominees are just some of the high-profile graduates from the University for the ... Read More
Oscar-winning filmmakers, world-renowned fashion designers, television presenters, celebrity jewellers and Turner Prize nominees are just some of the high-profile graduates from the University for the Creative Arts. As a specialist creative arts university, we have created a unique community for our students, where like-minded people can share in the creative process and inspire one another. Collaboration between courses is encouraged, with fine artists studying with budding filmmakers and fashion designers working alongside architects. In this way, our students benefit from exposure to a range of disciplines. Choosing to study with us will give you the freedom to discover your own personal style through a winning combination of industry-focused courses, state-of-the-art facilities, and inspirational expert staff.
Read less