BA (Hons) Criminology and Psychology
Home ›
BA ›
BA (Hons) Criminology and Psychology
Program Description
Coronavirus (Covid-19) updates:
Our current intake is open. We are continuing to deliver an undisrupted learning experience across all our courses. We are Distance Learning specialists with more than 25 years' experience delivering education online.
Course Overview
Arden University's online BA (Hons) Criminology & Psychology programme will provide the skills and knowledge needed to take your next professional step in your career. This course will help develop your understanding of the social and psychological factors that contribute to criminality, and concepts aimed at tackling them.
Arden's flexible study mode allows you to develop your psychology and criminology knowledge around your existing commitments. This programme will equip you with a sound understanding of the relationship between these two exciting fields, and help take you closer to your career goals.
The full range of programmes offered by Arden features a strong focus on employability, practical skills, and career success. This programme has been developed to help you understand crime from a psychological perspective, for a career in a wide range of sectors.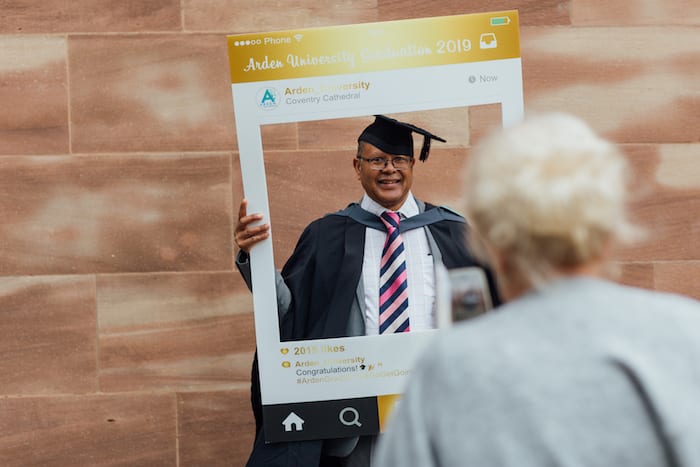 Course Modules
Level 4
Skills for Interdisciplinary Study
Develop your skills as a learner, and look at problems from different perspectives. After an introduction to your online academic community and the key skills needed for the programme, you will improve your personal skills sought by employers.
Introduction to Social & Developmental Psychology
This branch of psychology examines the changes that occur throughout the human lifespan. During this module, you'll cover a range of theories, including forming of identity, personality, ideas about the self, and language acquisition. You'll also look at how people's thoughts and behaviours are influenced by the lens of social psychology.
Introduction to Biological & Cognitive Psychology
Discover the cognitive processes that are central to how we see, hear and learn new skills. In this module, you'll explore perception, attention, learning, memory and decision-making - giving you an introduction to the way cognitive psychologists explore human processes.
Crime & Society
From the 1700s to current thinking about crime and criminal justice, this module introduces the study of criminology. This 'rendezvous discipline' mixes sociology, psychology, law, and political philosophy- and you will encounter theories and models relating to crime and criminal justice. This module also explores explanatory factors such as class and education and sub-branches such as victimology.
Criminal Justice System
You'll discuss implications of age, race and class, alongside competing views on purposes of policing, prosecution, courts and correctional services. From property and cybercrime to modern slavery, this module tackles the complexities of criminal justice.
Key Studies in Psychology
This module looks at several important studies in the history of psychology. Through these key examples, you'll explore the different ways the mind can be investigated, and gain an insight into the way this discipline has evolved. You'll learn about the context of their development, and their impact on different branches of psychology.
Level 5
Research and Ethics in Action
This module gives you the chance to showcase your abilities through a piece of work of your own design. You'll determine the methodology, develop a range of skills, and will consider the ethical issues of the work you are undertaking. Later, you'll include this in a practical way as you work towards your final project.
Personality and Intelligence
Learn about historical and contemporary approaches to personality and intelligence and their implications for society and education. You'll discover the role of genes and environment, psychometric tests and cultural effects for education and society. With several substantial topics to engage with, you'll get the chance to debate key aspects of personality and intelligence in this module - from behavioural to biological.
Social Psychology
Gain an understanding of human behaviour as you explore conceptual and historical issues in social psychology. Using traditional and critical research methods, you will practically apply a range of theories to real-world issues, and explore social constructionism, culture, language, and identity, amongst others.
Contemporary Debates in Criminology
Crime and justice issues are regularly discussed in the media. This module considers a range of current topics which are currently being debated. These might include: hate crime, global organised crime, terrorism, the age of criminal responsibility and miscarriages of justice. Beneath these topics are deeper issues of social exclusion, civil liberty versus surveillance, and the integrity of police investigations.
Environmental Criminology
Two uses of the term 'environmental' relate to urban crime and 'green criminology'. The first asks how globalisation, gentrification, and urban renewal affect crime rates, whilst the second looks at conservation, pollution, illegal trade in rare species, and ecological disasters.
Policing & Police Powers
The focus of this module is the type of police work carried out in society and its wider implications for youth and community relationships. You'll examine international aspects of policing, public order, recruitment, and the balance of surveillance vs civil liberties.
Level 6
Contemporary Developmental Psychology
From the development of the self, early social interaction and later-life effects of development, this module looks at important theories and debates. You will be encouraged to think holistically, linking the most up-to-date thinking to the ways different aspects of development relate to each other.
Cross-Cultural Psychology
Because most psychological research has been conducted amongst Western society, it mostly applies to a limited population. As cultural borders blur, this module looks at the similarities and differences between cultures and how we understand and act towards each other. You'll learn how these studies are done and will have a chance to exercise your critical and analytical skills through a case study approach.
Cybercrime
This module explores the technological developments making cases of online fraud and other instances of cybercrime more common. You will consider how these cases link to other areas of the criminal justice system and other aspects learned on this programme.
Youth Justice
Explore the ways our society deals with instances of criminal behaviour in young people, beginning with a study of the historical development of the youth justice system. Using all main, contemporary schools of thought, you will analyse the youth justice system of today.
Research Planning & Project
This final module gives you the opportunity to specialise in an area of the programme that has interested you most during your studies. With your supervising tutor, you will determine an interdisciplinary area related to your degree to research and will incorporate all the skills acquired in the programme to complete this major work.
What Our Students Say:
"Going back to full-time education became almost impossible as I had a family, mortgage, and all the other distractions of modern family life. Would I recommend Arden? Yes, I would. It has given me purpose, self-fulfilment, confidence and a potential to work in my chosen field."

Martin Lithgow,
Arden University
Eligibility Requirements
To be eligible for this course you must normally have:
Two subjects at GCE A-Level or equivalent, plus passes at grade C or above in three subjects at GCSE level or equivalent; OR
Have completed a recognised Access Programme or equivalent
For students whose prior learning was not taught in English: IELTS 6.0 or equivalent (no less than 5.5 in any element).
If you have work experience
We positively encourage applications from those able to demonstrate their motivation to study the programme. We will ask for your personal statement, along with your CV and references in support of your application.
Fees
£13,500 (UK & EU), £13,150 (International)
Last updated Apr 2020
About the School
Here at Arden University, we believe that everyone everywhere should have access to the higher education they deserve. Whether you already hold a post-secondary degree or are just beginning your journ ... Read More
Here at Arden University, we believe that everyone everywhere should have access to the higher education they deserve. Whether you already hold a post-secondary degree or are just beginning your journey into higher education, Arden has the tools and the passion to help provide you with a truly engaging and beneficial learning experience.
Read less