Program Description
Study a Creative Arts degree with OCA
Do you have a love of all things creative? Inspired by multiple art practices? Or would love to experiment with a variety of media?
Our Creative Arts BA (Hons) degree is truly multidisciplinary and is specially designed for you to enjoy the freedom to explore artistic practices and express your unique voice as a creative. Your journey on this course includes the opportunity to create original and exciting ways to communicate complex ideas and concepts through a variety of visual languages.
You'll explore all areas of the creative arts, providing the finest opportunity to explore your artistic skills and identity. Disciplines range from Creative Writing, Poetry, Scriptwriting, Drawing, Painting, Printmaking, Sculpture, Textiles, Photography, Moving Image, Graphic Design, Illustration and Music; giving you a grounding in each to form the perfect degree for you.
You'll learn how to research effectively, critically analyse, reflect and expand your creative confidence.
Course Structure
Our BA (Hons) Creative Arts degree is built from all of the subject areas that OCA offer; Creative Writing, Music, Photography, Fine Art, Textiles, Illustration, Moving Image, Drawing, Graphic Design, Textiles, Painting and Visual Communications.
All units at Level 2 on the Creative Arts degree have prerequisites at Level 1, so it is worth looking through the units at Level 2 so you can plan out your degree from the start.
Our Creative Arts degree is split into 8 manageable units; three at Level 1 (HE4), two at Level 2 (HE5), and three at Level 3 (HE6). These 8 units add up to 360 credits needed for your distance learning degree and can be completed at your preference, between a flexible 4-9 years.
Core Units
All students learn Creative Arts Today at Level 1. This theoretical unit investigates key themes in Contemporary Art, Creative Reading, Visual Communication, Photography, and Textiles giving you a solid understanding in each and perfect for you to develop a critical understanding of these different areas. Each part develops your skills in research and interpretation through writing. If you're unsure of which creative areas, you would like to study this unit will help you choose.
Optional Units
As you further your journey on Level 1 you will direct your study in two further areas, which will determine the units you study at Level 2:
Creative Writing Level 1: You can choose from Writing Skills, Art of Poetry, or Scriptwriting. You'll learn the basics of writing, picking up good practices and developing short pieces.
Creative Writing Level 2: You can choose from Life Writing, Writing for Children, Writing Short Fiction, Poetry – Form & Experience, or Moving on with Scriptwriting; these units will develop and expand what you've learnt so far, introducing new techniques and research exercises.
Music Level 1: Composing Music. You'll learn to refine composition techniques, developing music as a language.
Music Level 2: Composition, and introducing choral and instrumental elements and ideas in your compositions. All music courses require the use of Sibelius.
Photography and Moving Image Level 1: You can choose either Expressing Your Vision or Setting the Scene; you'll learn how to develop a concept and see it through to edit and create a story.
Photography and Moving Image Level 2: You can choose from Landscape, Digital Image & Culture, Self & the Other, Documentary, or Moving Image Methodologies. All Photography units require the use of editing software.
Fine Art Level 1: Drawing Skills, Practice of Painting, Introduction to Printmaking, or a Starting out in 3D sculpture unit.
Fine Art Level 2: these lead to Investigating Drawing, Painting: Studio Practice, Developing Your Style, or Sculpture: Studio Practice. You can develop your skills in drawing, painting, sculpture, and printmaking utilising historical and contemporary techniques.
Textiles Level 1: Textiles Vocabulary, context and interpretation.
Textiles Level 2: Contemporary Practice. These will explore the use of different media to present concepts in art.
Visual Communications Level 1: Key Steps in Illustration and Graphic Design: Core Concepts.
Visual Communications Level 2: You can go on to study either Working with a Client or Responding to a Brief. You'll learn to problem-solve through the creative use of graphics and illustration and develop that in work-based scenarios.
At Level 3: All students learn Body of Work, Research, and Sustaining Your Practice. Forming your major project, bringing together everything you've learnt over the course and preparing you for life after study. This enables you to continue as a practising artist and use your degree in your hobbies, interests or career.
Fees
UK 2019/20 Fees
Foundations: £900 Per course
Level 1 (HE4): £4,050 For the level
Level 2 (HE5): £3,340 For the level
Level 3 (HE6): £3,340 For the level
Outside of the UK 2019/20 Fees
Foundations: £1,050 Per course
Level 1 (HE4): £4,500 For the level
Level 2 (HE5): £3,690 For the level
Level 3 (HE6): £3,690 For the level
Fees, Funding & Other Costs
OCA courses are less than half of the cost of a degree at a campus university.
OCA degrees are paid for on a unit-by-unit basis and are around a third of the cost of a degree at a campus university. Unit costs depend on the level of the unit, and also whether you live in the UK or the rest of the world.
If you started studying with OCA before 01 August 2017, please contact accounts@oca.ac.uk as different fees may apply.
If you are funding your course yourself you can either pay for units in full or you can spread the cost by taking advantage of our deposit and instalment facility for which a £50 fee is included in the deposit you pay.
All OCA courses are listed with Student Finance England, Wales, and Northern Ireland, so you can even do a course now and pay it back later. If you have never studied at higher education before, are a UK national, and have lived in England, Wales, or Northern Ireland for the past three years, you may be eligible for a Student Loan to cover the cost of fees.
As a student with OCA, most reading materials can be accessed through the digital library services and eBooks, or sent to you in the post.
You will need to consider the costs of your own art materials, this can vary depending on the subjects you decide to study however could typically be around £150 per year for fine art subjects. You also need to cover the cost of sending physical material to us for assessment, this could typically be around £20 per assessment depending on the quantity and weight of materials in your submission. You will be able to apply for a maintenance loan to assist you with the cost of study as explained in our guide on Student Finance.
We've made this helpful guide to take you through the application process, making applying for Student Finance simple and straightforward.
Entry Requirements
Creative Arts is an open access, distance learning degree; this means that there are no formal qualifications or experience required to join this course however if you wish to study the Music 1: Composing Music unit must have completed ABRSM Grade 5 Theory for entry.
All OCA courses require students to be IT literate, have a good internet connection, and have a good standard of English equivalent to CEFR B2.
Careers & Employability
Upon completing our BA (Hons) Creative Arts degree, you'll be set with skills to achieve great things. You could use your practice as a Creative Director, Designers and Illustrator, Photographer, Printmaker, Web developer, to Stylists or Glass Blowers, the options are endless.
In 2017 the Department for Culture, Media, & Sport estimated there were some 3.12 million jobs in the UK creative economy, and 80,000 new jobs were created in 2017 alone. The creative industries are growing faster than any other sector in the UK.
Last updated Mar 2020
About the School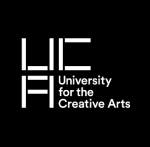 Oscar-winning filmmakers, world-renowned fashion designers, television presenters, celebrity jewellers and Turner Prize nominees are just some of the high-profile graduates from the University for the ... Read More
Oscar-winning filmmakers, world-renowned fashion designers, television presenters, celebrity jewellers and Turner Prize nominees are just some of the high-profile graduates from the University for the Creative Arts. As a specialist creative arts university, we have created a unique community for our students, where like-minded people can share in the creative process and inspire one another. Collaboration between courses is encouraged, with fine artists studying with budding filmmakers and fashion designers working alongside architects. In this way, our students benefit from exposure to a range of disciplines. Choosing to study with us will give you the freedom to discover your own personal style through a winning combination of industry-focused courses, state-of-the-art facilities, and inspirational expert staff.
Read less