Associate of Science in Music Production
Home ›
Music ›
Associate of Science in Music Production
Program Description
Are you passionate about music? Do you have a strong desire to learn about the professional side of the music industry? With our online degree program, you'll learn how to produce and compose your own music and what it takes to get your songs heard.
The Music Production Associate of Science degree program is a 60 semester credit hour degree program that is delivered 100% online through our unique Learning Management System (LMS)—a secure web-based platform that employs modern multimedia technologies and is accessible 24 hours a day via the Internet. Online students use this system to view video content, receive and submit project work and assignments, take tests and quizzes, communicate with instructors and classmates, and review grades and course progress. Our online learning environment utilizes a combination of interactive and web-based media to create a variety of instructional materials in support of dynamic, self-directed, and collaborative learning activities. These activities can provide students with a more diverse range of learning options and promote more meaningful collaboration between students and instructors.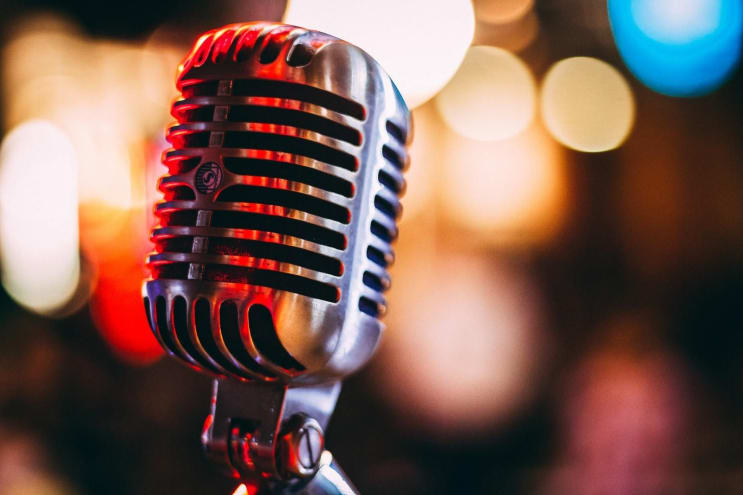 israel palacio / Unsplash
Our Mission, Your Education
Being a successful music industry professional requires an understanding of what it takes to transform a song from a concept to a well-produced and successful recording. Our program not only teaches you the technology and techniques behind music production but also how to protect your creative interests legally and financially. Whether you come to our program as a passionate beginner or as an already successful artist, and no matter your style of music – from hip-hop and R&B to rock and pop – our coursework has you covered. Our 20-month Associate of Science degree program focuses on three areas of study: composition, production and the business side of managing music. You'll hear from industry leaders, network with your peers on discussion boards and create real-world projects to showcase, all while learning about the many different roles within the music industry.
You'll receive training in:
Mixing
Songwriting
Sequencing
Digital Recording
Production
Copyright & Business
How it Works
Our degree program is delivered 100% online through our Learning Management System, a secure web-based multimedia platform that is accessible 24 hours a day.
The Los Angeles Film School - Learning Online from The Los Angeles Film School on Vimeo.
Gear and Software
We equip you with everything you need to start your professional music production studio: a MacBook Pro, Logic Pro, Pro Tools, Ableton Suite, headphones, MIDI keyboard, USB audio interface, large-diaphragm condenser microphone and more!*
*Specific types of gear and gear info subject to change without notice. Entertainment Business Completer program does not receive a laptop.
Objectives
The Associate of Science Degree Program in Music Production provides an education track for individuals who would like to expand their passion for creating music into the production of music for diverse media applications using today's latest digital music technology. The demand for original music content in all media continues to increase as the entertainment industry expands the use of online delivery of content and multi-media programming. The Music Production Degree Program's curriculum presents the learner with comprehensive courses that focus on music theory, genres, composition, digital music production, and music recording, and mixing and mastering for various media. Included with this focus on the creative aspects of music production are courses in entertainment business structure, industry conventions, and intellectual property. General education courses round out the program. These courses build a foundation for the student as a working professional in the entertainment industry. The degree's content covers the many different procedures and applications found in the modern music production world.
The goal is to provide the student with the knowledge and understanding of music production technology and the skills and concepts needed to qualify graduates for entry-level industry positions such as music recording engineers, MIDI/digital audio workstation operators and programmers, music editors, music supervisors, music arrangers, and composers for film, video games, multimedia content, and a variety of other positions in the audio and entertainment industries. In addition to gaining technical proficiency, the students' education will help develop critical-thinking, problem-solving, and analytical and creative skills that contribute to lifelong learning. Students leave the program with tools to help sustain a long and productive professional career in the entertainment and media industry.
Last updated Apr 2019
About the School
Almost 100 years after the dedication of Sunset Boulevard, The Los Angeles Film School opened its doors. In a story that includes iconic moments, from the creation of the Walk of Fame to the Hollywood ... Read More
Almost 100 years after the dedication of Sunset Boulevard, The Los Angeles Film School opened its doors. In a story that includes iconic moments, from the creation of the Walk of Fame to the Hollywood Sign, we are a new chapter. Sunset went from being a cattle path at the turn-of-the-century to the world-famous boulevard where our campus is located today.
Read less