Associate of Science in Business Administration
Home ›
Associate of Science in Business Administration
Read more about this program on the school's website
Program Description
Why an Associate Degree?
An associate degree is an American university degree consisting of roughly 20 courses in a chosen field of study, which is typically completed in two years. Many students at American universities choose to begin their academic career with an associate degree for a number of reasons:
After completing an associate degree, there're almost no formalities involved with continuing one's studies toward a bachelor's degree.
Obtaining an associate degree gives students a tool for career-advancement while still studying, as well as an advantage in searching for a job.
Research shows that dividing one's goals into shorter, more manageable tasks greatly increases an individual's ability to achieve defined goals.
The majority of UoPeople's scholarship funds are allocated to students working for an associate degree.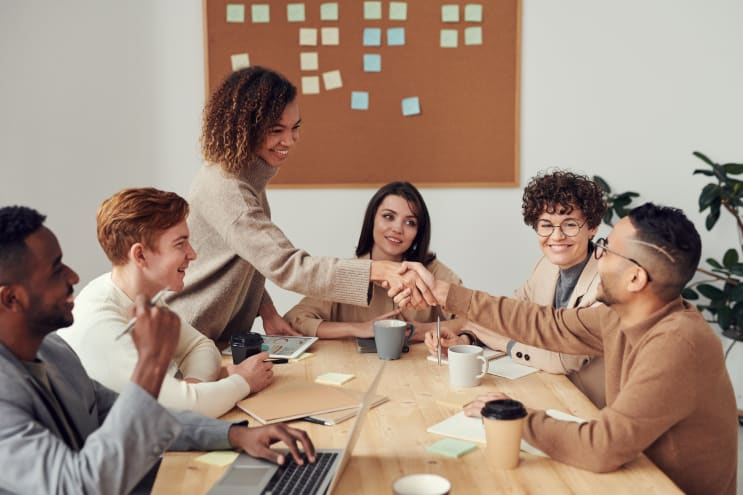 Associate of Science in Business Administration
The Associate of Science in Business Administration program is built on a strong industry foundation and provides a broad understanding of business and business fundamentals.
Students learn how to:
Apply appropriate business models in decision-making situations.
Perform effectively within a professional team environment.
Apply ethical reasoning to business situations.
The online associate degree program in business administration introduces students to the basic tenets of the field of business and provides a foundation for continued study towards a bachelor's degree.
Each student will be connected with a personal Program Advisor at the commencement of their studies, who will remain with them until graduation. The student's personal Program Advisor acts as his/her support system throughout their studies. The personal Program Advisor will be happy to answer any questions the student may have, offer academic advice, discuss course selection, and offer encouragement throughout the student's studies.
Program Goals
Within the context of each, students are provided with the opportunity to acquire relevant skills and knowledge.
The program has three overarching goals:
Provides a framework in applying appropriate business models in decision-making situations.

Interpret and analyze accounting information for efficiency and continuous performance improvement.
Apply concepts and principles for marketing resources, goods, and services.
Understand the basic principles of corporate finance and how capital markets operate.
Understand how and when to use basic statistical analysis.
Will understand (A.S. level)/ analyze (B.S. level) fundamental principles of economics and how they apply to business decisions.
Identify and analyze business problems and opportunities and formulate recommendations for courses of action (B.S. level).
Identify opportunities for new business ventures, and evaluate their potential for success (B.S. level).

Covers the knowledge and skills needed to perform effectively within a team environment.

Lead and/or co-lead collaborative projects using team-building skills to accomplish group goals apply their knowledge of basic components and interactions between hardware and software to create programs to solve computing problems.
Understand the basic principles of organizational theory and the relationship between employees and organizations.
Understand the principles of setting performance goals, and monitoring, mentoring, and motivating employees (B.S. level).

Enhances a command of applying ethical reasoning to business situations.

Demonstrate how business behavior and policies can leave a lasting effect on society, and how some portions of society may be affected differently.
Develop self-awareness with respect to management style, time management, and sensitivity to diversity in the workplace.
Recognize the need to respond to ethical and legal concerns relating to human resource and organizational management (B.S. level).
[Note: The Associate of Science degree level has many goals in common with the Bachelor of Science degree level. This reflects the fact that students at the Associate's level complete the same Year 1 and Year 2 program requirements. Because students at the Bachelor's level then complete additional requirements in the major, they are expected to achieve these goals at a higher developmental level.]
Admission Requirements
As a fully accredited University, UoPeople has a number of requirements for all potential applicants, to help maintain a strong, intellectual student body.
To meet admission requirements, applicants must:
Be 16 years old or older.
Be able to demonstrate high school completion.
Have English proficiency.
To apply for admissions consideration to UoPeople, applicants must complete an online application, including payment of a $60 non-refundable Application Fee.
Non-Native English Speakers
In addition, applicants who are non-native English speakers, or did not complete their high school education in an institution where the primary language of instruction is English, are required to provide proof of English proficiency during their application process. Should applicants be unable to provide proof of English proficiency, they will need to successfully complete a UoPeople English course before proceeding to UoPeople Foundations.
Entrance Exams
Entrance-exams are not required for admission – this means that you do not need to submit any standardized test scores in order to be accepted to the online degree program at UoPeople.
Foundations Courses
In order to be admitted to an undergraduate degree program, students must successfully complete the UoPeople Foundations Courses. The UoPeople Foundations Courses are designed to equip students with the necessary skills needed to thrive in their academic degree studies. Once students have successfully passed the UoPeople Foundations Courses and sent their proof of high school completion document, they may continue as degree students at UoPeople in their desired undergraduate degree program. The UoPeople Foundations Courses count towards the associate's and bachelor's degree credit requirements.
Submitting Proof of High School Completion
Submitting proof of high school completion may be satisfied during your first term at UoPeople through the submission of:
Official diploma (or transcript showing graduation) sent directly to UoPeople (either mailed or submitted online); or
A photocopy of the original diploma (or transcript showing graduation) certified by a notary sent directly to UoPeople (either mailed or submitted online); or
If an applicant, such as a refugee or asylum seeker is unable to provide the documents listed above, the applicant shall take an Ability to Benefit test approved by the US Department of Education.
Sending Documentation
For the quickest processing of your application materials, it is advised to send your documents electronically directly to your admissions advisor or to admissions@uopeople.edu
Refugees and Asylum-Seekers who are unable to produce original diplomas and/or transcripts may submit alternative documentation.
For applicants still wishing to send their documents to the Office of Admissions in Pasadena, California, must send to the following address:
University of the People
595 E. Colorado Boulevard. Suite 623
Pasadena, CA 91101, USA
Documents that are not in the English language must be submitted along with an official notarized translation. The original, as well as the English version, must be sent to UoPeople.
UoPeople also accepts the following official post-secondary credentials for admissions consideration: Bachelor's, Master's, and Doctorate degrees.
It is important to verify that all the appropriate documents are included, as well as to be sure that you have copies of your personal records.
Please note that all submitted documents become the property of University of the People, and cannot be returned, due to university regulations.
If applicants have any issues or questions regarding the required documents they need to send, they may contact their personal Admissions Advisor or the Office of Admissions at admissions@uopeople.edu.
Transferability
Transferring Credits to UoPeople:
Students and applicants at UoPeople have the option of transferring credits toward their degree programs at UoPeople.
For undergraduate degree programs UoPeople may award the transfer of up to 50% of the required program credits. In special cases, UoPeople may choose to make an exception – allowing for up to 75%.
This means that students can transfer no more than 45 credits toward the completion of an Associate's degree.
Transferring Credits from UoPeople to Other Institutions:
The transferability of credits and credentials is at the complete discretion of the institution to which you seek to transfer, and may include a transfer fee.
Paying For School
UoPeople is able to offer our students an online degree tuition-free because of our unique model of online higher education. Our minimal processing fees help to maintain our tuition-free online degree structure—allowing all qualified students to receive their online degree without educational instruction expenses, course material, or annual enrollment fees. We ask for a non-refundable application fee of $60 and an assessment fee of $100 per exam [not in one full payment but at the time of each exam] which can be covered by numerous grants and scholarships.
The estimated total fees for the Associate's degree are as follows: $2,060
Cancellations Policy
A student has the right to cancel this Agreement in any manner and at any time. Cancellation is effective five (5) days after the University receives the notification of a student's cancellation. During this time, you may notify the University that you no longer wish to cancel this Agreement. Notice of Cancellation is effective if it shows that the student no longer wishes to be bound by this Agreement or to continue their attendance at the University. If the student cancels this Agreement, the student shall not be liable to the University and the University shall refund any money paid through attendance at the first class session or the seventh day after enrollment, whichever is later, excepting any non-refundable fees.
Refund Policy
Students who drop or withdraw from a course within the required deadline are not required to pay the Assessment Fee.
The Application Fee is non-refundable except in instances when applicants withdraw their application for admission before an admissions decision is made. Applicants may write a formal request for a refund of the Application Fee to their personal advisor. If approved, refunds will be available to the applicant within 30 days of the submission of the formal request and the refund will be issued using the same payment method used by the applicant to pay the fee.
Students who remain in their course beyond the course withdrawal deadline are not eligible for a refund of the Assessment Fee. The Assessment Fee is only refundable in instances where the University has canceled a student's course or if the student's work was not assessed at all during the course.
Program Requirements
The Associate of Science requires the completion of at least 60-semester credits, including general education courses and all courses listed for the course requirements in the major.
Complete a minimum of 60 approved credits.
Earn a cumulative grade point average of at least 2.00 in all coursework attempted at UoPeople.
Earn an overall grade point average of at least 2.00 in all courses taken in the major area of study.
Complete all requirements for the Associate's Degree in no more than 25 terms of active enrollment excluding any periods of separation from the University.
Complete the 5 required proctored exams.
University of the People has five terms in its academic year, each ten weeks in length. Students must complete all requirements for the Associate's Degree in no more than 25 terms of active enrollment.
Grading Policies and Practices
The University ensures that students are issued grades in a timely fashion and that grades are determined in a manner that is accurate, fair, and consistently applied in accordance with established standards. At the conclusion of each term of study, students may check their grades in their unofficial academic record in the Student Portal. Since the unofficial academic record is a permanent record of a student's academic performance, including course selections, grades, and credits earned toward a degree, it must be correct at all times. Students who believe an error has been made on their academic records should be in contact with the Office of Academic Affairs at academic.affairs@uopeople.edu.
Students are encouraged to speak to their Course Instructors if they wish further clarification of their grades, would like to discuss their assessments, or are considering requesting a grade change. Students with further complaints regarding alleged unfair or improper grading at UoPeople and who are unable to reach a resolution with their Course Instructor may request a Grade Appeal form from the Office of Academic Affairs.
Curriculum
Individual courses are the building blocks of each degree program. Course requirements are structured to ensure that student study encompasses a broad range of topics and approaches, with an appropriate balance maintained among the three curricular components that comprise a liberal arts education:
General Education
Students pursuing an Associate of Science degree must complete the following 9 courses to fulfill the General Education requirements. To see the full list of general education courses required, please visit the catalog or the General Education Requirement, course catalog.
Major Courses Required
BUS 1101 Principles of Business Management
BUS 1102 Basic Accounting
BUS 1103 Microeconomics
BUS 1104 Macroeconomics
BUS 1105 Business Communications
BUS 2201 Principles of Marketing (proctored course)
BUS 2202 E-Commerce (proctored course)
BUS 2203 Principles of Finance 1
BUS 2204 Personal Finance
BUS 2207 Multinational Management
Electives
Students pursuing an Associate of Science degree may choose additional elective courses beyond those specified in the General Education requirements, and/or select introductory courses in other majors and/or take additional courses in a student's major that may not be required for the degree.
Careers
An Associate Degree in Business Administration can open doors to hundreds of new career opportunities. Business Administration majors go on to work in corporations, non-profit organizations, and entrepreneurs – setting up and running their own businesses.
This course of study will strengthen your organizational and analytical skills and will give you the tools to navigate today's complex and changing business world. Studying accounting, marketing, management, and economics will qualify you for entry-level business administration and management roles, and may lead to positions in sales, marketing departments, accounts payable/receivable, supervisory positions in retail and foodservice, supply chain and logistics management, human resources, operations management, administrative services and many more.
For those who are already in management positions or running their own businesses, getting your Associate Degree will give you a new set of tools to manage and grow your business practice.
Earning an Associate Degree will do more than just help you land the career you want. According to the U.S. Department of Labor Statistics, professionals with an Associate Degree earn an average of 20% more per week than employees with only a high school diploma.
So what are you waiting for? Jumpstart your career today with a degree in Business Administration and move closer to achieving your goals.
Technology Requirements
To complete a degree program at the University of the People, students will need to have consistent access to a computer with a reliable internet connection. If students are working on a computer that is not their personal computer and are unable to save documents, it's important also to obtain an external drive. Because there are no mandatory video materials for the University of the People courses, this drive can be a simple USB drive.
Most of the learning materials that students will be dealing with in their UoPeople courses are compatible with Adobe PDF or Microsoft Office. Our learning platform, Moodle, can be accessed by the latest versions of IE, Safari, Opera, and Chrome, but we recommend that students use the latest version of Mozilla Firefox. Note also that although working through a mobile device is not recommended, it is an option. There is no need to purchase software to study at the University of the People.
Students do not need to purchase Microsoft Office. Office 365, a subscription service offering Microsoft Office suite software – and so much more - is given to all UoPeople students without additional cost.
Note that whatever system students choose to use, all files shared with course Instructors and classmates must be saved in either Microsoft-compatible formats or PDF format.
Last updated Oct 2020
About the School

University of the People (UoPeople) is the Education Revolution. We are the first non-profit, tuition-free, American accredited online university. Dedicated to opening access to higher education globa ... Read More
University of the People (UoPeople) is the Education Revolution. We are the first non-profit, tuition-free, American accredited online university. Dedicated to opening access to higher education globally, UoPeople is designed to help qualified high school graduates overcome financial, geographic, political, and personal constraints keeping them from collegiate studies.
Read less