Arabic Language Intensive Summer Program - ALIS (Online studies for summer 2020)
Home ›
Arabic ›
Arabic Language Intensive Summer Program - ALIS (Online studies for summer 2020)
Program Description
ALIS / Arabic Language - Integrated Arabic: Discover Egypt (final) ONLINE Summer 2020
Learn Arabic this summer from the safety of your home. AUC's renowned Arabic Language Intensive Summer Program (ALIS) is now available online, so you can learn Arabic whenever and wherever you want. Dedicated, native-speaking AUC scholars will help students worldwide hone their Arabic-language skills through a creative and interactive approach. The online classes are offered for three levels of learners: elementary, intermediate, and intermediate-high or advanced. This program offers 6 - 8 credit hours, focusing on the communicative aspect and development of language skills. Courses include Modern Standard Arabic, Egyptian Colloquial Arabic, writing, academic electives, and supervised studies, such as translation, Quran reading, and the Bible parables. Read more about the program courses and credits here: http://schools.aucegypt.edu/academics/ALI/ALIN/SummerProgram/Pages/Online-ALIS.aspx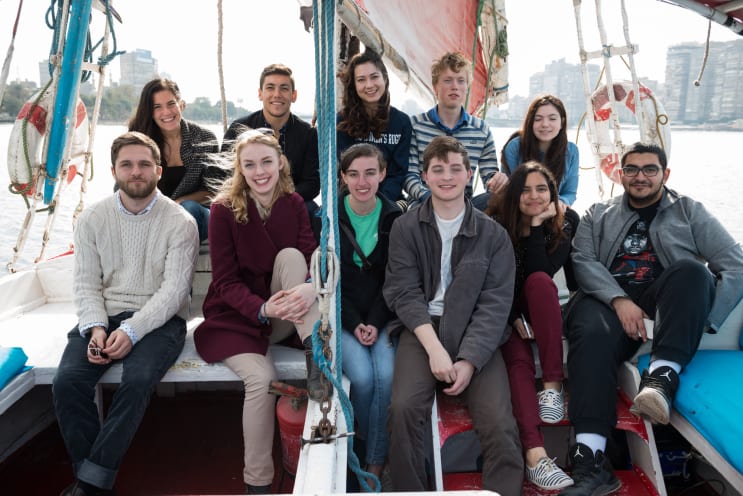 Who it's for:
The program serves students from all over the world who wish to invest in learning Arabic at various levels, including:
Nonnative Arabic speakers from different professional backgrounds
Nonnative Arabic learners with specific career aspirations who want to learn Arabic in the most effective and efficient way
Study-abroad and nondegree learners wishing to explore a new language and unlock new opportunities
What you'll learn:
The language of the media, literature, science and formal fields of contemporary knowledge
The language of everyday interaction and daily living
Printed or aural media
Translation
Quran reading and the Bible parables
Online culture clubs led by native speakers for engaging in conversation about Arabic music, film and other topics (depending on level)
Where it can take you:
Students in the elementary level program will gain working competence in reading and writing Modern Standard Arabic and understanding and speaking Egyptian Colloquial or Modern Standard Arabic. Students at the intermediate level will be able to read and write Modern Standard Arabic with some fluency, to pursue studies in topics that interest them in Arabic, and to converse freely in Arabic. Intermediate-level students will also enhance their knowledge of vocabulary related to specific fields of interest, such as business and diplomacy. Advanced-level students will be able to employ Arabic with competence and confidence in the fields of business or diplomacy.
Alumni of the program: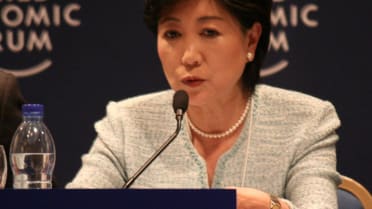 Yuriko Koike (ALU '71), first female governor of Tokyo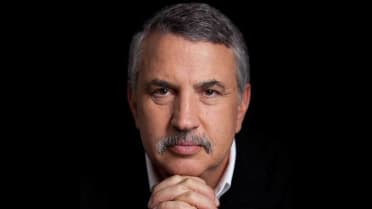 Thomas L. Friedman (ALU '74), three-time Pulitzer Prize winner, op-ed columnist, The New York Times; best-selling author
Margaret Litvin (CASA '11), associate professor of Arabic and comparative literature, Boston University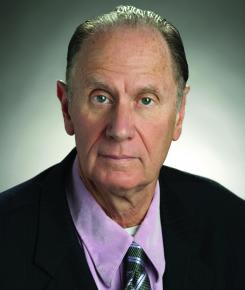 David Bonderman (CASA '69), businessman; philanthropist; chairman and founding partner, TPG
Important Dates:
Deadline for receiving application: May 1, 2020
Deadline for placement exam: May 25, 2020
Deadline for deposit ($2,000): May 27, 2020
Deadline for full payment: June 15, 2020
ALI online orientation: June 8, 2020
Location:
Online
Admission Requirements:
A placement exam is obligatory except for complete beginners. Once you apply, we advise you to take the placement test as soon as possible. The deadline for the placement exam for summer 2020 is May 25. Upon completion of your placement exam and document submission, you will receive an acceptance letter within one week, if you are accepted, to proceed with the down payment. Applicants must demonstrate their seriousness of purpose and ability to complete a rigorous language program successfully. A complete application form and one letter of recommendation must be submitted. It is advisable for the applicant to complete the application and arrange to have a recommendation letter sent to the appropriate AUC office well before the deadline.
Expert Faculty: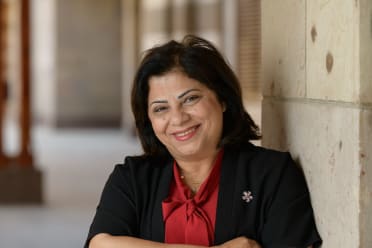 Iman Soliman (Ph.D., University of Edinburgh) is chair of the Department of Arabic Language Instruction and a senior Arabic-language instructor. She has taught Arabic language and culture at Middlebury College in the United States, the University of St Andrews in the United Kingdom, and International House Cairo in Egypt. She has also led teacher-training workshops for Arabic first-language teachers in Qatar. At AUC, she teaches both Egyptian Colloquial and Modern Standard Arabic language and culture. She has co-authored a number of Arabic-language learning books, such as Kallimni 'Arabi Bishweesh, Mastering Arabic through Literature: The Short Story al-Rubaa Volume 1 and Mastering Arabic through Literature: Drama al-Rubaa Volume 2.
For more information visit https://www.aucegypt.edu/index.php/fac/imansoliman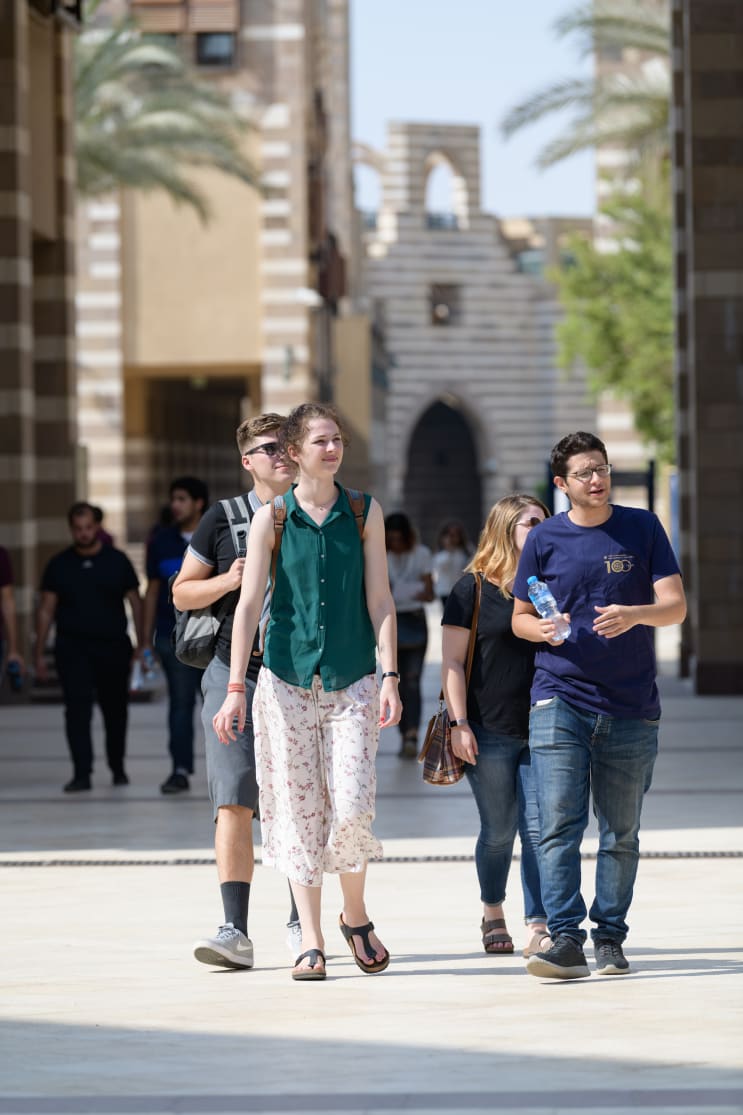 Scholarships
AUC offers scholarships for undergraduate and graduate study abroad students. Click here to learn more. One of the University's major priorities is providing scholarships and financial aid support to its students, in order to further AUC's mission of building a culture of leadership, lifelong learning, and dedication to making significant contributions to Egypt and the international community in diverse fields. Through scholarship awards, AUC attracts gifted young men and women, regardless of their financial circumstances, to the University and provides them with an education that empowers them to create positive change in Egypt and the world. AUC offers scholarships based on merit and need. Students with special qualifications, such as academic, athletic, or artistic talent, and who demonstrate high financial need compete for these scholarships.
Thanks to the generosity of our donors, AUC offers more than 90 named scholarships supported by individuals and corporations. These funds from prestigious donors have allowed AUC to recruit and educate outstanding and eligible students coming from different cities, countries, and educational backgrounds.
Last updated Jun 2020
About the School

The American University in Cairo (AUC) is a premier English-language institution of higher learning. The university is committed to teaching and research of the highest caliber.
The American University in Cairo (AUC) is a premier English-language institution of higher learning. The university is committed to teaching and research of the highest caliber.
Read less