52684WA Advanced Diploma of Electrical and Instrumentation (E&I) Engineering for Oil and Gas Facilities
Home ›
52684WA Advanced Diploma of Electrical and Instrumentation (E&I) Engineering for Oil and Gas Facilities
Read more about this program on the institution's website
Program Description
Join this interactive, live online programme for 18 months (part-time intensive) to gain:
Skills and know-how in the latest technologies in electrical and instrumentation in oil and gas engineering

Decades of real experience distilled into the course presentations and materials

Guidance from real experts in the field

Practical knowledge from the extensive experience of our lecturers

Credibility as a local expert in electrical and instrumentation oil and gas technologies

Networking contacts in the oil and gas industry

around the world

Improved career prospects and income

An accredited Advanced Diploma in Electrical & Instrumentation Engineering for Oil and Gas
Programme Details
There is an opportunity for Electrical and Instrumentation (E & I) technicians, technologists, and engineers in the oil and gas industry. This is due to an increasing need for higher technology methods of obtaining and processing oil and gas as it is a finite declining resource. The technical challenges of extracting oil and gas are becoming ever more demanding, with the increasing emphasis on more marginal fields and previously inaccessible zones such as deep oceans, Polar regions, Falkland Islands and Greenland.
This advanced diploma provides a practical treatment of electrical power systems and instrumentation within the oil, gas, petrochemical, and offshore industries. You will find this course beneficial in improving your understanding, skills, and knowledge of the whole spectrum of activities ranging from basic E & I engineering to advanced practice including hazardous areas, data communications along with a vast array of E & I equipment used in an oil and gas environment.
Programme Structure
The programme follows five engineering threads to provide you with maximum practical coverage in this field:
Electrical engineering

Instrumentation and Control engineering

General Oil and Gas engineering

Subsea Instrumentation and Control

Floating Production, Storage and Offloading (FPSO) Facilities
The course is composed of the following modules:
| | |
| --- | --- |
| Module Number | Module Name |
| 1 | Fundamentals of Electrical Engineering |
| 2 | Fundamentals of Process Instrumentation |
| 3 | Electrical Drawings, Documentation, and Schematics |
| 4 | Power Distribution |
| 5 | Power Transformers |
| 6 | Switchgear for Power Distribution |
| 7 | Cables and Wires – Maintenance and Installation Practice |
| 8 | Power System Protection and Co-ordination |
| 9 | Electrical Safety and Grounding/Earthing, Bonding and Lightning Protection |
| 10 | Power Quality, Uninterruptible Power Supplies, Surge Protection, and Noise Control |
| 11 | Troubleshooting, Maintenance, and Protection of AC Electrical Motors and Variable Speed Drives for Instrumentation and Control Systems |
| 12 | Electrical Equipment in Hazardous Areas |
| 13 | Electrical Applications to Oil and Gas Platforms and Sites Instrumentation and Control |
| 14 | General Instrumentation Standards in Oil and Gas, and Best Practice in Process, Electrical and Instrumentation Drawings, and Documentation |
| 15 | Process Control Basics |
| 16 | Calibration, Installation, and Maintenance of Instruments |
| 17 | Control Valve Sizing, Selection and Maintenance |
| 18 | Programmable Logic Controllers |
| 19 | SCADA and Distributed Control Systems |
| 20 | Industrial Data Communications |
| 21 | Safety Instrumentation and Emergency Shutdown Systems for Oil and Gas (IEC 61511 and IEC 61508) |
| 22 | Wellhead and Flowline Control |
| 23 | Oil and Gas Specific Applications for Floating Production, Storage and Offloading (FPSO) Facilities |
Entry Requirements
This is an accelerated, practical, work-oriented programme. It is designed for engineers and technicians who have some background in the field. This includes those who have technical or 'trade' qualifications who want to move to the next career step, those with substantial relevant work experience who need to formalize and enhance their achievements, and those with higher-level qualifications in a related field who wish to develop specialist knowledge. Practical work experience in related areas of engineering would help enormously. It would not be suitable for a student with no relevant work experience.
Who Should Complete this Programme?
This course is ideal for you if you are seeking to get know-how and expertise in the oil and gas business and are:
Instrument and process control technician or technologist

Instrument Fitter

Chemical or mechanical engineer

Electrical engineer currently working in a different area to oil and gas

Experienced electrician

A recent graduate electrical, instrumentation or mechanical engineer
Tatenda Nherera is an EIT graduate, having obtained his Advanced Diploma of Electrical and Instrumentation (E&I) Engineering for Oil and Gas Facilities (DEI). Read more about his story here.
How Does it Work?
EIT's online learning courses involve a combination of live, interactive sessions over the Internet with a professional lecturer, set readings, and assignments. The courses include simulation software and remote laboratory applications to let you put theory to practice. You will also receive ongoing support from a dedicated Learning Support Officer.
Practical Exercises and Remote Laboratories
As part of the groundbreaking new way of teaching, our online engineering courses use a series of remote laboratories (labs) and simulation software, to facilitate your learning and to test the knowledge you gain during your course. These involve complete working labs set up at various locations of the world into which you will be able to login to proceed through the various practical assessments.
These are supplemented by simulation software, running either remotely or on your computer, to ensure you gain the requisite hands-on experience. The labs and simulation software is designed to increase the absorption of the materials and to give you a practical orientation of the learning experience. All this will ensure you obtain maximum benefit from this course.
Benefits of online learning to students
Cost-effective: no travel or accommodation necessary
Interactive: live, interactive sessions let you communicate with your instructor and fellow students
Flexible: short interactive sessions over the Internet which you can attend from your home or office. Learn while you earn!
Practical: perform exercises by remotely accessing our labs and simulation software
Expert instructors: instructors have extensive industry experience; they are not just 'academics'
No geographical limits: learn from any location, all you need is an Internet connection
Constant support: from your instructor(s) and a dedicated Learning Support Officer for the complete duration of the course
International insight: interact and network with participants from around the globe and gain valuable insight into international practice
Benefits of online learning to employers
Lower training costs: no travel or accommodation necessary
Less downtime: short webinars (60-90 minutes) and flexible training methods means less time away from work
Retain employees: keep staff who may be considering a qualification as a full-time study
Increase efficiency: improve your engineering or technical employees' skills and knowledge
International insight: students will have access to internationally based professional instructors and students
Testimonials
The course was excellent, with great tools and a support network.
Michael Freeman, Australia

The course is a very great initiative by EIT and I would want to see it on the BSc level.
Casper Ncube, South Africa

It is a good course and I have enjoyed and benefited a lot; I have also improved on my work because of the knowledge and content of this course.
Elson Makoti, South Africa
Last updated Sep 2020
About the School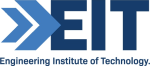 The key objective of the Engineering Institute of Technology (EIT) is to provide an outstanding practical engineering and technology education; from Diplomas through to Masters Degrees. The finest eng ... Read More
The key objective of the Engineering Institute of Technology (EIT) is to provide an outstanding practical engineering and technology education; from Diplomas through to Masters Degrees. The finest engineering lecturers and instructors, with extensive real engineering experience in the industry, are drawn from around the world. The learning is gained through face-to-face classes as well as synchronous, online (eLearning) technologies.
Read less